Augusta, ME – The Maine Elevator and Tramway Safety Board on Monday voted unanimously to establish a program by which ski lift mechanics in the state will need to be licensed.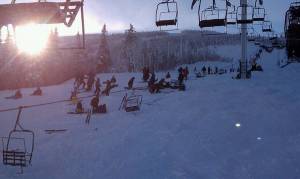 Even though Maine requires such certification of elevator mechanics, officials indicate that they're aware of no other state that requires the same of those who repair ski lifts.
The vote was prompted by an accident in December 2010 at Sugarloaf, in which the cable of the resort's Spillway East chairlift jumped from a sheave train, dropping five loaded chairs 30 feet to the ground. Several minor injuries resulted from the mishap.
Officials cited inadequate training that led to a Sugarloaf employee attempting to adjust the sheave train on the loaded chairlift moments before the accident occurred on Dec. 28. Board members, however, could not say that licensing would have likely prevented the mishap. No disciplinary action against Sugarloaf resulted from the Monday meeting, only the third for the state board since November 2008.
Sugarloaf's Spillway East chairlift was inspected before the 2010-11 ski season by a private firm retained by the resort's insurer and certified as safe to operate.