Salt Lake City, UT – With a passion to fight childhood hunger, over 50 of Utah's hottest chefs and restaurants will gather from noon to 4 p.m. on Sunday, August 7 at Solitude Mountain Resort for Share Our Strength's Taste of the Nation Utah, the state's most popular culinary benefit. Taste of the Nation Utah will raise critical funds needed to support Share Our Strength's efforts to end childhood hunger in Utah and across the nation.
Over 1,500 expected attendees will participate in this gastronomic event at the ski and snowboard resort in Big Cottonwood Canyon while enjoying fine cuisine from restaurants such as Stein Erikson Lodge's Glitretind (Grilled Utah Buffalo Tri-Tips with Peach Love and Molé Sauce); Z'Tejas (Chipotle Crawfish Sliders); Log Haven (Piquillo Pepper Summer Salad); Deer Valley Resort (Fresh Chile Marinated Sea Scallop, Crispy Kale, Fried Cojita Cheese, Wild Mushroom, Lime Aoli); Gastronomy (Buffalo Shrimp Skewer with Blue Cheese Slaw); and Bambara (Heirloom Tomato Shooters) – and more. The now infamous Utah Bakers Dozen will showcase fine desserts from more than 14 of the state's best pastry chefs and bakers.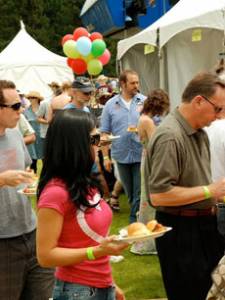 Guests will enjoy live music, a silent auction which includes weekend getaways, art, and jewelry and dining experiences that will include the chefs themselves, some of whom will offer to prepare a five-course meal for you and eight of your closest friends.
Every year 100% of ticket sales helps to ensure that no child in Utah and across the country grows up hungry. Funding this year is more important than ever as demand for food continues to increase. This year Utah Food Bank Services, Utahns Against Hunger and The Ogden Weber Community Action Partnership will benefit from funds raised at the event. Since 1998, Taste of the Nation Utah has raised more than $745,000 for anti-hunger and anti-poverty organizations.
More than 12 million children face hunger in America, and the need is increasing in Utah.  One in six Utah children under the age of 18 is at risk of hunger. And, one in six Utah children under the age of 5 is food insecure.
Share Our Strength's Taste of the Nation works to end childhood hunger in the United States and abroad by ensuring that children and their families have reliable access to nutritious food, and by addressing the deeper causes of these conditions. Funds raised through Taste of the Nation events provide grants to organizations in the United States, Canada and abroad that work successfully to end childhood hunger.
"An end to childhood hunger in the United States is within reach," said Bill Shore, Founder and Executive Director of Share Our Strength. "With all the participants in Taste of the Nation Utah sharing their strengths, we are creating more resources for the greater good of Utah and our great nation."
Tickets to Taste of the Nation Utah are now on sale at www.tasteofthenation.org/utah_tickets.