Portland, OR – With a new internal chassis dubbed the PowerFrame for improved downhill performance, Garmont is introducing a new class of high-end alpine touring ski boots for the 2011-12 winter season designed to power the beefiest alpine skis while still providing the same uphill capability.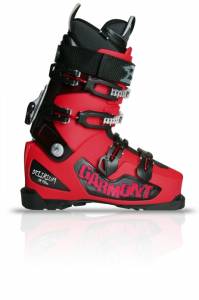 Dealers at on-snow demo events last winter confirmed the unique power and performance of this new collection.  The alpine touring boot market has shown growth in recent years both in the über-light randonée race market and the full-on aggressive freeride side of the spectrum. The PowerFrame is designed to quench the thirst of the latter group of backcountry skiers.
Engineered by industry legend Paul Parker and Garmont's development team, Garmont's PowerFrame Freeride collection is led by the men's Delirium ($799, 130 AT flex) and women's Asylum ($799, 120 AT flex). These boots serve up race-boot downhill performance, with exceptional ability to drive the biggest skis on the biggest terrain.
Both boots balance powerful performance technology with full touring capability, granting access to the most challenging backcountry lines. They are equally desirable for experienced alpine skiers seeking more comfort and versatility in their everyday freeriding.
Key features in both boots include construction upon an anatomically correct last that pairs a natural forefoot width for comfort with a snug, secure mid-foot and heel fit for solid edge control. A high overlap shell design eliminates the "dead spot" of traditional and restrictive boot tongues, delivering power transfer to the medial mid-foot that's needed to arc drive today's big skis.
Select technical polymers were utilized for an exceptionally damp and solid alpine-boot feel.  The lower shell is double-injected with a stiffer internal "pod" that secures a skier's foot and links to the outer frame for increased leverage.
The new boots feature Garmont's 100 percent thermoformable EZFit liner. Quick-change sole sets are compatible with ISO alpine, ISO touring and Dynafit's tech fittings. They are snapped securely into place and fixed with three pozi-drive bolts per boot. The Easy³ magnesium ski/walk mechanism has multiple forward lean positions that can be quickly and precisely adjusted with a single hex bolt, and the boot transitions easily from ski to walk modes even with ski gloves on. Strong new Magnesium FR buckles keep weight low.
Garmont's new Freeride AT ski boots will be available this fall at backcountry specialty retailers worldwide.