"Gee, what could possibly go wrong here?"
We wake up in a different season. After three hot desert days, autumn has arrived overnight. With the rising sun comes a brisk upriver wind and temperatures have dropped a good 15 degrees. Clouds are thick and menacing.
Breakfast for me consists of a Clif Bar, and for the first time this trip I wear a jacket on the river. I struggle to keep my river hat in place as the winds increase along with the waves that they create.
They've grown to one to two feet in height as we pass with the river from BLM land into Canyonlands National Park. I pull over to the river's edge to retrieve an item from my deck bag. I spot what appears to be an eddy in the river's flow among some low hanging Tamarisk lining the riverbank. The wind-whipped water, however, obscures the river's true current and I quickly surmise that I'm being swept into the tree's branches.
I paddle like mad in a desperate effort to avoid the inevitable. I curse myself. I know better than this, yet I'm helpless to avoid what will surely happen next. I call out to Jon just before I'm swept beneath the Tamarisk, which catches my body as the current continues to sweep my boat, which is now perpendicular to the current, further downstream. In a split second my boat rolls and I'm laying upside down in the cold water.
I release my spray skirt, swim out from beneath the boat and gasp for air, all the while still cursing my stupidity. I'm standing in waist deep river water. I right my boat and begin bailing the foot of water from my cockpit with the hand-operated bilge pump. My smartphone, useless in this environment anyway except for its GPS capabilities, is in the pocket of my shorts and has now spent over a half a minute submerged. With its zipper open, water has infiltrated my deck bag, rendering two of my three cameras and a solar charger inoperable. My guidebook has disappeared, although Jon still has his and I have my map.
I wipe the remaining water from my cockpit with the bilge sponge before spending the next five minutes trying to extricate my feet from the river muck without giving up my shoes to it. I'm forced to kneel on the river's bottom and slowly pull my feet upward until the muck releases its unrelenting grip.
I'm thankful to be paddling again, but now saturated I'm shivering in the brisk wind. That same wind, though, quickly dries my upper body as I vow to learn from my mistakes. We paddle hard directly into the wind as the waves grow even larger. We seek shelter along the riverbanks while I maintain sufficient distance from the Tamarisk branches.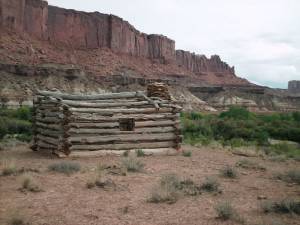 Some miles later we arrive at Fort Bottom, so named for an 800-year-old Anasazi stone fort that sits atop a bluff overlooking the river from a strategic position. Closer to the river sits the "Outlaw Cabin" built before the 19th century by Matt Warner, a local rancher. Little else is known about the cabin, including whether or not it was actually used by outlaws, but its walls and stone fireplace still stand even though its roof of willows has long since collapsed.
We're joined at Fort Bottom by another small group traveling in canoes. Thunder rumbles in the distance as the others ascend the butte to the fort while Jon and I check out the cabin. Leaving the cabin, Jon and I debate whether or not we'll have time to ascend the butte before the storm's arrival. They quickly reach an alcove just below the summit before scrambling onto its flat top, and we decide to press on with the alcove serving as a shelter for a contingency plan.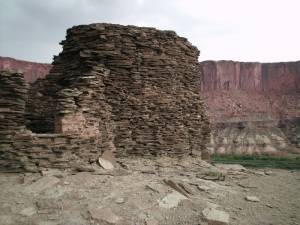 Aside from the breeze, however, it's surprisingly placid as we reach the summit ourselves and examine the fort. The Anasazi's architectural skills are reinforced by the fact that this two-story stone structure still stands after some 800 years of punishing weather. We're quickly chased off the butte, however, as lightning strikes nearby, and as we quickly descend to lower ground the winds gust to 60 miles per hour as sheets of rain and even hail punish our bodies. The wind shoots precipitation directly into the alcove we had hoped to use as a shelter.
The storm eases as we return to our boats, but not before rain running down my legs has filled my hiking boots and my feet squish as I walk across the beach. My aging rain shell has begun to leak and my body's core is once again saturated and cold. As the skies clear, water pours for hundreds of feet in temporary waterfalls spilling from formerly dry washes on the canyon's rim turning one element of the storm into a special pleasure. Fresh with silt from the clay walls above, the river water quickly turns a deep red color.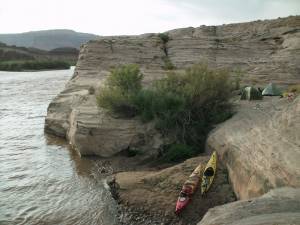 As the storm's winds subside they're quickly replaced by the day's prevailing headwind. We paddle directly into it through one of the river's longest straight stretches past Potato Bottom to Queen Ann Bottom. Canyonlands' famed White Rim sandstone now rises a couple of hundred feet above the river's surface and the Tamarisk-lined riverbanks are now replaced by sheer rock walls rising directly from the water's surface for some of the most remarkable paddling of our trip. We wave to two women in a canoe who we've seen several times before, this time camped on a sandbar on the left bank, as we continue further in search of a site of our own.
What we find will turn out to be the most interesting campsite of our trip, sitting in deep, soft sand perched 20 feet directly above the river on a ledge in the White Rim. Unlike the surrounding river bank the sandstone rises relatively gently above our campsite toward the rim. We pitch our tents and head upward, seeking a route to the rim for a sunset hike before dinner.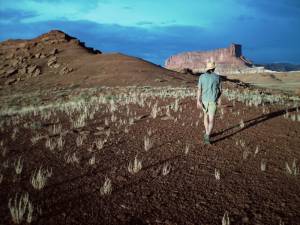 Our shoes stick to the rough sandstone like suction cups and it doesn't take long to find a route that works. The steady wind whips our clothes as late afternoon thunderstorms drift all around us. We find the White Rim Road and cross it, the soil quickly turning deep red. As we climb a nearby bluff the setting sun dips below the clouds en route to the horizon and lights up only the Island In The Sky some 10 miles to our east. It's an other-worldly experience and we can only stand there and gape in awe.
After the sun disappears from view daylight quickly fades, and we snap to our senses and begin to descend the route by which we came before complete darkness envelops the canyon. We return to camp just as rainfall arrives as well, and we cook our night's dinner – linguine with a white clam sauce – under a steady drizzle before retiring to our respective tents for another early night.
Wall Street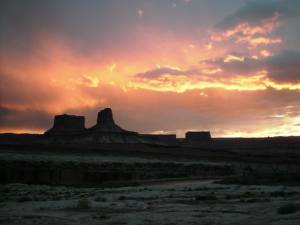 Day five dawns once again grey and threatening and the unrelenting headwinds persist. It's another Clif Bar for breakfast before hitting the river for some of the most difficult paddling of this trip. We round Bonita Bend, where the river has carved a new course and eliminated a two-mile meander, and continue around the broad curves of Valentine Bottom and Tuxedo Bottom to arrive at the unique physical and archeological entity known as Turks Head.
A large isolated piece of sandstone sits atop a narrow neck of red clay stone, looking for all the world like a turban. Hidden among the cliffs at the base of the clay rock sit ruins of Anasazi cliff dwellings, again some 700-800 years old.
We find a narrow path through the Tamarisk on the bend's south side, and we arrive at the same time as five folks from Kentucky and Florida traveling by canoe. We decide to explore together.
The path ends where the river bottom meets stone, with a worn foot trail leading in either direction. We opt to go right and walk for a quarter mile before reaching the first ruin, and then a second, and a third. We surmise that some were probably used as living quarters and some for food storage. Constructed of flat stones with dried river mud as a mortar, these structures have survived for centuries, right down to a wooden header cemented in place across a door frame. We snap numerous photos before separating as Jon and I walk for nearly a mile along the flat bluff. Finding nothing of particular interest we turn around.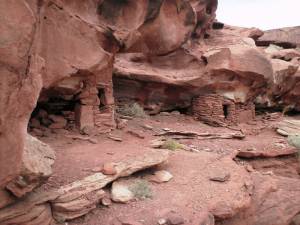 We all return to our respective boats concurrently. The canoeists shove off first, but with their significantly greater windage than that of our kayaks we quickly catch and pass them. Beyond here the river narrows and the canyon walls close in upon us. For the first time that we can recall there are no side canyons carved by water along the banks, and it feels like being on the narrow skyscraper-lined streets of lower Manhattan. Just beyond our day's planned objective of Horse Canyon we find a broad sandbar on river right and begin setting up camp.
I had just set my tent poles and staked the four corners. I turn around to grab my rain fly when a ferocious gust of wind storms up the canyon and rips my tent from its stakes. I reach out and barely catch my tent as it performs a Wizard of Oz maneuver toward the Tamarisk lining the sand bar, where it certainly would have met a shredding demise. I prevent a repeat performance with a couple of well-placed dead man anchors before we settle in for fajita night.
(Go to next page below)