Methven, New Zealand – Cold air and new snow made for a memorable ski season opening this past weekend across much of Australasia, while some other areas in the region were left wanting for snow.
Near Methven, Canterbury's Mt. Hutt ski area on New Zealand's South Island celebrated the launch of its 2012 season on Saturday with smiles all around, with resort officials and guests alike clearly thankful to avoid a repeat of the warm and dry May and June experienced throughout the region last year.
"It was fantastic to be able to say 'Mt. Hutt is open' and let the first skiers and boarders make their way through the gates," said the ski area's manager, James McKenzie.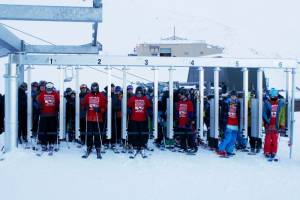 The first guests who arrived at 4:55 a.m. to be first on the Summit Chair were Sean Lister, Kalim Cuthire, Dave Roy, Chris Roy, Dorian Grault and Matt Welsh, all of whom claimed their coveted Mt. Hutt "First On The Chair" T-shirts. Strong winds and resulting hazards meant the Summit Six and Highway 72 trails officially opened 45 minutes late at 9.45 a.m., but the wait for Ski Patrol staff to make the area safe was worth it, according to McKenzie.
The first day on the slopes at Mt. Hutt, which attracted approximately 1,400 skiers and boarders keen to enjoy the 65cm of snow blanketing the mountain following last week's snowstorm, was celebrated with champagne provided by Queenstown's Amisfield winery.
"It's turned into a great day up here," said McKenzie. "I've spoken to heaps of guests and they are unanimously saying the conditions are fantastic. It's really going off. On-trail conditions are 10 out of 10, with Morning Glory, Fascination and Broadway in primo condition.
"I'm delighted to hear how well the team is performing, especially as we've had a really challenging week with no access to the ski area on two out of four of our training and preparation days due to a blocked road," he added.
In Queenstown, James Coddington, CEO of NZSki, owner of both Mt. Hutt and Coronet Peak, said it was a "very proud moment" to see a huge team effort result in both ski areas opening on the same day, and on schedule.
"It's the culmination of a huge effort between two mountains, and 14 departments on each mountain, to officially open together.  It's the first time we've actually planned a joint opening and everybody's given 100 percent to come together to achieve everything according to plan, even though it's stretched our resources to the limit. "
About 200 hardy souls lined up for the first chair at Coronet Peak, and the number swelled to around 1,000 throughout the day.
"We're absolutely ecstatic to be open," said Coronet Peak ski area manager Hamish McCrostie.   "We've received about 20 centimeters of natural snow in the build-up to opening but we've been able to open with a 35-centimeter average base thanks to machine snow and some nice top ups including the five centimeters that fell at 4 a.m. (Saturday) morning.
"It's great for Coronet Peak, great for Queenstown, and great for tourism in New Zealand," added McCrostie.  "It's a huge shot in the arm for everyone. There's a lot of people up there having a lot of fun, releasing that pent-up desire to get in their first runs of the season."
"Mt. Hutt has been blessed with the snow, and Coronet Peak has been blessed with the cold temperatures," Coddington added.
Ski resorts on New Zealand's North Island, however, were not so fortunate. Turoa ski area on Mt. Ruapehu is scheduled to open this Saturday, but thus far has missed out on the white stuff falling from the New Zealand skies. While they've picked up a dusting in recent days, Turoa's slopes are largely still strewn with rock.
In nearby Australia, Mt. Hotham is reporting its best season opening in 12 years, according to press reports. The resort's summit quad was spinning for approximately 2,500 anxious early season skiers and riders for the first time since 2000, along with three other lifts, following the country's ski season debut at Perisher a week earlier.  Falls Creek had three lifts operating, while Mt. Buller, which has been largely bypassed by recent snowstorms, had only one lift operating for sightseeing. Mount Baw Baw could only offer tobogganing for its guests on the 20cm of snow that fell there last week.
Elsewhere in the Southern Hemisphere, Africa's only operating ski area, Afriski in Lesotho, also opened its beginner slope for the season this weekend on a 40cm base.  Snow has been falling in South America already as well, but only Argentina's Cerro Catedral has opened thus far on the continent with one lift and five trails for eager guests.