Queenstown, New Zealand – Warm weather has prompted officials at New Zealand's Coronet Peak to suspend the Queenstown area ski resort's night skiing and riding operations in favor of day skiers until seasonable temperatures return to the Southern Alps.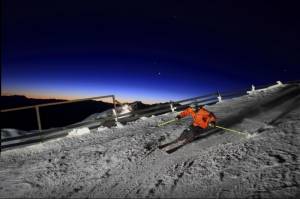 "Our priority is to ensure the trails on the ski area are in the best possible condition for skiers and boarders during the day," said Coronet Peak ski area manager Hamish McCrostie. "At the moment with temperatures and conditions as they are, the best time for us to groom the ski area is during the night skiing timeframe."
McCrostie explained that when the weather is warm their grooming efforts produce the best result if completed between 4 p.m. and 10 p.m. After 10 p.m. the snowpack re-freezes, yielding a less than optimal groomed surface for skiers and riders arriving the following morning. He acknowledged, however, that the resort's decision will prove unpopular with many guests.
"We know how popular night skiing is among locals and visitors," McCrostie accepted. "We've not made this decision lightly and are committed to getting night skiing up and running again just as soon as conditions allow."
Officials indicate that the situation will be reassessed on a weekly basis.