Mt. Crested Butte, CO – Officials at Crested Butte Mountain Resort (CBMR) have confirmed that the Colorado ski area's acreage will grow by nearly one-third this coming winter, but not for the reasons that one might suspect.
Long-time East Coast skiers may recall the day many years ago that Killington, Vt.'s trail count tripled overnight — without felling a single tree — by simply segmenting trails into "Upper," "Middle" and "Lower" portions. While CBMR's announcement of its remarkable growth on Wednesday is far less egregious, it's not the result of any new terrain being added to the trail map.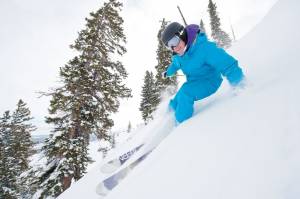 While developing maps and analyzing terrain in concert with the resort's Master Development Plan (MDP) process with the Grand Mesa, Uncompahgre, and Gunnison National Forest District, resort planners confirmed that the ski area has 380 additional acres of skiable terrain throughout many gladed areas within bounds. The finding brings CBMR's skiable acreage to a total of 1,547 acres; previously claiming 1,167 acres of skiable terrain throughout the resort.
In CBMR's defense, calculating skiable acreage is not an easy task, especially when terrain is as rugged as it is in portions of Mt. Crested Butte. With rapid developments taking place in surveying and mapping technology, the process has in recent years become increasingly accurate.
"Going through the MDP process forced us to look a little deeper at our developed, gladed and extreme terrain to ensure that we have an accurate inventory throughout the resort," says John Sale, Director of Planning for CBMR. "In the past, we had never counted our gladed terrain on many areas of the main mountain. Since it is an industry standard, we feel that adding this to our listed skiable acres keeps us in line with what other resorts are doing and is a honest reflection of  what our resort acreage truly is. Also with new mapping technologies, we were able to exactly pinpoint these areas and get three-dimensional acreage counts."
Every five to 10 years, ski resorts that operate on U.S. Forest Service (USFS) Lands are required to submit a Master Development Plan that conveys the resort's vision for long-term investments of facilities and improvements. CBMR is currently going through this process, which will update their MDP. Resort officials have conceptually outlined an area for future expansion on Crested Butte Mountain and presented the concept to local public officials this past winter. The MDP is scheduled to be submitted to the USFS for review this summer.
Areas on the mountain that are now included for the first time in the resort's acreage are the glades off the East River and Teocalli lifts, Horseshoe Springs, an area near the West Wall lift, the Forest and Hot Rocks areas and some glades off the Red Lady Express lift. The calculations were determined by resort planners along with SE Group, a mountain resort planning firm based out of Salt Lake City, Utah.