Bern, Switzerland – Swiss alpine ski racer Beat Feuz is back in Switzerland after sustaining a knee injury while training in Argentina for the upcoming World Cup season.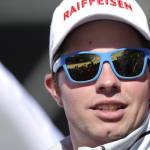 Feuz, 25, fell during giant slalom training and reinjured his left knee which was operated on last spring. Swiss ski team doctors indicate that the accident resulted in a bone bruise that is expected to keep Feuz off snow for the next three to four weeks.
Feuz was with the Swiss team training on the ski mountains surrounding the Argentinian town of Ushuaia in the southern region of Tierra del Fuego when the incident occurred.
"I'm glad it's not a serious injury and remain optimistic for the upcoming season," said an upbeat Feuz. "In South America I had a few good days of training and informative tests with the new equipment. This gives me the confidence that I will be able to join (the team in training) soon enough."
Feuz finished second in both the downhill and overall World Cup standings and third in the super G last winter. He finished on the World Cup podium an impressive 13 times last season.