Olympic Valley, CA – Now under common ownership for their first full winter season together, California's neighboring Squaw Valley and Alpine Meadows ski areas are spending nearly $24 million in capital improvements for the winter of 2012-13 in north Lake Tahoe. New projects for the upcoming ski and snowboard season include significant snowmaking improvements at both resorts, a new high-speed six-passenger chairlift and improved High Camp beginner experience at Squaw, and a mile-long terrain park at Alpine Meadows.
"We are very excited about the significant investment devoted to capital improvements for the upcoming season," said Andy Wirth, president and CEO of Squaw Valley and Alpine Meadows. "Snowmaking improvements, in particular, for this season and in the future, will be substantial and will vastly improve the consistency and quality of our snow surface and afford us an excellent opportunity for top-to-bottom skiing quite early in the winter season."
The 2012-13 winter season marks year two of what resort officials have dubbed the Squaw Valley Renaissance. Originally billed as the five-year, $50 million capital improvement plan designed to upgrade Squaw Valley alone, the Renaissance will now total nearly $70 million in improvements to both Squaw Valley and Alpine Meadows by winter 2015-16. The first year began with a renovated base village with new restaurants, bars and fire pits to Squaw Valley, as well as other amenities including completely revamped terrain parks in partnership with Snow Park Technologies (SPT), the new SnoVentures activity zone with tubing and mini-snowmobiles, and the world's first ski-in/ski-out Starbucks.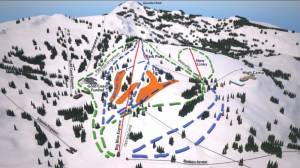 For the 2012-13 winter season, Squaw Valley is investing in new chairlifts and lift line improvements to enhance the experience in both the beginner areas and the terrain park, as well as to improve the overall flow of the upper mountain. The resort will install Big Blue Express, a new, high-speed six-pack chairlift, to replace the High Camp chairlift. The base terminal of Big Blue Express will start where the base of the High Camp lift was formerly located and the new lift will extend to the top of the Shirley Lake ridgeline, providing easy access to the ski area's Shirley Lake, Solitude and Granite Chief chairlifts. This new alignment will not only provide quicker and easier travel to Shirley Lake and beyond, but it will also give skiers and riders access to beginner and intermediate terrain that was previously inaccessible via the old High Camp chairlift. The new Park Pulley telecord, a modern day version of a tow lift, will be also installed to provide easy access to the Belmont terrain park and to eliminate traversing across the mountaintop meadow.
The Links double chairlift will be removed and replaced with a triple chairlift named Mountain Meadow, which will be realigned to bring skiers and riders up to the ridgeline near the top terminals of the Solitude and Silverado lifts. The primary purpose of this realignment is to provide a more suitable and accessible learning area with a better fall line for Squaw's beginner skiers and riders.
Snowmaking improvements totaling $2.6 million at Squaw Valley this winter include the installation of new high-technology air/water guns, replacement of manual fan guns with fully automated versions, rebuilding of pumps and compressors, and installing state-of-the-art monitoring and control equipment. These resort's lift improvements, combined with Squaw's snowmaking improvements and grooming initiative, will provide more efficient and convenient travel and flow on the upper mountain – and a better overall experience for skiers and riders this coming winter, resort officials say.
Squaw Valley's legendary Olympic Plaza Bar will be completely remodeled for winter 2012-13 to feature table service dining for lunch and après ski in an upscale "mountain contemporary" atmosphere. With $300,000 in renovations, the redesigned Olympic Plaza Bar will pay tribute to the resort's Olympic heritage with collage murals commemorating the 1960 Olympics, and the bar's new comfortable lodge furniture (think rustic chic) that will be perfect for relaxing after a day on the slopes. Menu items will include signature flatbread pizzas, artisan meat and cheese platters and finger foods.

Located in a prime location just steps away from the slopes, Squaw Valley will be opening the 5,000 square-foot Parallel Sports Shop featuring the latest ski technology as well as a complete line of outdoor wear and street wear for the whole family.  The new shop will work in conjunction with the resort's demo program – meaning skiers can try as many demo skis as they like and deduct the rental cost off of a brand new pair of skis in the retail store. The new demo center will augment a second location on the mountain. A new 2,000 square-foot snowboard store will also open in the Village this winter.
Squaw Valley is partnering with Burton and their acclaimed Learn to Ride (LTR) program for winter 2012-13. Burton's LTR program is designed to make learning to snowboard fun and easy by combining proven teaching methodologies with beginner-specific equipment. As part of the LTR program, Squaw will be offering specially designed equipment for beginner snowboarders, both kids and adults. Burton's LTR catch-free technology helps establish control and confidence which ultimately leads to linking turns faster. LTR boards feature a softer flex, radical sidecut and forgiving edge bevel, all of which are designed to reduce the likelihood of catching an edge. Along the same lines, LTR boots and bindings are extremely comfortable with softer flexing, allowing the rider to more easily guide the board into a turn.
New snowmaking upgrades next door at Alpine Meadows ski area will significantly improve efficiency, making it possible to generate more snow more quickly earlier in the season. As a result, park features will be created and additional terrain will become accessible sooner.
Upgrades will include computer-driven automation to control the Alpine Meadows snowmaking operation. The automated system monitors a range of data (e.g. temperature, humidity, flow, etc.), making it possible to configure the operation of specific snowmaking units based on conditions in that area. This greatly improves snowmaking efficiency, resulting in a larger quantity of higher quality snow in a shorter period of time.
With the recent partnership between Alpine Meadows and Snow Park Technologies (SPT), skiers and riders can look forward to continued terrain park improvements and an enhanced park experience throughout the winter season. The medium and large parks combined will run from Terry's Return to Dancefloor, stretching a mile for the longest terrain park run in the Tahoe region. Also brand new this year, there will be a beginner progression park on Subway where lessons will be available. Guests eating out on the sundeck can enjoy the view of skiers and riders testing out their skills at a new base area jib arena. New jibs will be added this season, including four new beginner boxes, two intermediate boxes and four new snowmaking pipe jibs, increasing the park's fleet to more than 60 jib features.
Like Squaw Valley, Alpine is also partnering with Burton and their Learn to Ride (LTR) program for winter 2012-13.
Alpine's ticket office has been reconfigured, complete with an improved look and streamlined customer experience by providing a centralized place for guest information and products. The ticket office will have seven windows, including an ADA  (Americans with Disabilities Act)  accessible level window, enhancing the efficiency of ticket operation and providing one-stop shopping for a variety of Alpine's services and packages including tickets, passes and lessons.