Ludlow, VT – A surprise guest was called to the podium during a recent regularly scheduled monthly managers' meeting at Okemo Mountain Resort. State of Vermont Department of Forests Parks and Recreation Forestry District Manager Jay Maciojowski took a few moments to describe the challenges the State has faced with maintenance on the historic fire tower located at the summit of Okemo Mountain. He went on the thank the ski resort's VP of Operations Barry Tucker and his team. He presented Tucker with a certificate of appreciation "for outstanding work to rehabilitate the Okemo Mountain Fire Tower."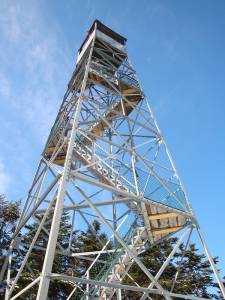 Nineteenth century timber operations that made Burlington, Vt., a hub for the U.S. lumber industry left a landscape ripe for forest fires that ravaged thousands of acres throughout the state. In 1904, legislation established a forest commissioner who was given special duties regarding the protection of forests from fire. In 1910, a state law gave the state forester authority to employ watchmen, for a salary of $2 a day, to be located at lookout stations established by landowners. The first of 38 lookout towers was constructed in 1912. Airplane surveillance eventually replaced the fire watchers and today, only 16 fire towers and observation platforms remain.
Skiers and snowboarders who visit Okemo in winter are familiar with the steel structure located at the summit of the South Face area. Warm-weather visitors can hike the three-mile Healdville Trail to Okemo's fire tower, passing a clearing that contains the remains of the watchman's cabin – a stone chimney is the only thing left standing.
For those who can't make the trip to the summit, a miniature replica of Okemo's Fire Tower, crafted by Okemo staff members, is featured as part of the resort's miniature golf course located in the Adventure Zone at Jackson Gore.