Salt Lake City, UT – To some it may seem like a solution in search of a problem, but avid skiers and snowboarders who tune their own gear know that a square, straight edge on a plastic scraper is essential for effective, efficient and even removal of excess wax after ironing. Up until now, the only answer was to use a file to smooth and square up the scraper's business end.
Enter the Ski Scraper Sharpener. Manufactured by Ashland, Ohio-based Mantac Limited, this handy device automates, speeds and perfects that process.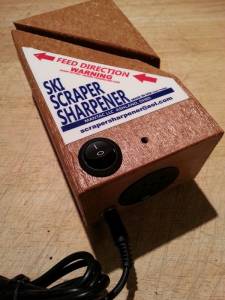 Simply slide the scraper through the slot on the device and a spinning blade delivers the perfect edge to your scraper every time, and in only a matter of seconds. Any scraper up to 7mm wide (approximately 1/4 inch) is accommodated. No particular skill is needed to get the perfect edge, unlike the steady hand and accurate eye needed to file a scraper by hand.
The device, with a housing of recycled plastic and weighing about two and a half pounds, is equally at home on the workbench or in a hotel room, and its six-inch length maintains its portability. It works equally well on either 110V or 220V household current, ensuring that it will deliver a sharp, even scraper anywhere around the world.
The only hitch we see with the Ski Scraper Sharpener is its cost, which at $149.95 seems a bit steep for a device with such a limited purpose. At that price its best home may be perhaps with ski clubs, in ski instructor and patrol locker rooms, or in designated hotel ski tuning areas. Mantac, though, offers its customers a 60-day money back guarantee to give the Ski Scraper Sharpener a whirl and backs each device with a one-year warranty.  While the manufacturer acknowledges that the cost may seem high to some, they assure that their profit margin is slim on each device sold, and increased production and sales may allow the cost to drop thanks to volume.