Moscow, Russia – Eagle, Colo. teenager Mikaela Shiffrin boosted her Audi FIS Alpine World Cup slalom lead to 33 points over top challenger Tina Maze of Slovenia with a third place finish in the Moscow City Event in Russia on Tuesday night. World Cup overall and slalom leader Marcel Hirscher of Austria captured the men's victory while German Lena Duerr captured her first World Cup with the women's win.
"I'm not really thinking about the slalom title chase, but it feels good to get some extra points," Shiffrin said after Maze was eliminated from the finals on Tuesday night. "I'm feeling really confident in my skiing. My goal for today was just to have fun and rip – the points were a bonus."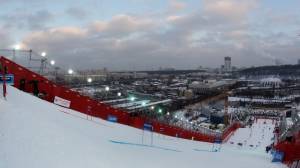 The night head-to-head parallel slalom, the final competition before the FIS Alpine Ski World Championships open on Feb. 4 in Schladming, Austria, was held on a 200 foot tall man-made structure in Moscow's All-Russian Exhibition Center.
"It's always tough because you're aware that someone is right next to you – you're wondering if you're ahead or if you're behind – wondering where they are and hoping you're in the lead," Shiffrin added. "Kirchgasser was really tough but I knew that she was going to be good. Lena Duerr was really fun to race, she just came up and started ripping and she took that to the win."
Americans Lindsey Vonn, Julia Mancuso and Ted Ligety opted not to compete in order to focus on World Championships.
OFFICIAL RESULTS
Audi FIS Alpine World Cup
Moscow, Russia – Jan. 27, 2013
Slalom

Women:
| | | | | |
| --- | --- | --- | --- | --- |
| Rank | Bib | Name | Year | Nation |
|  1 |  11 | DUERR Lena | 1991 | GER |
|  2 |  4 | VELEZ ZUZULOVA Veronika | 1984 | SVK |
|  3 |  2 | SHIFFRIN Mikaela | 1995 | USA |
|  4 |  8 | HOLDENER Wendy | 1993 | SUI |
|  5 |  7 | KIRCHGASSER Michaela | 1985 | AUT |
|  5 |  5 | POUTIAINEN Tanja | 1980 | FIN |
|  5 |  3 | HANSDOTTER Frida | 1985 | SWE |
|  5 |  1 | MAZE Tina | 1983 | SLO |
|  9 |  16 | SOROKINA Anna | 1990 | RUS |
|  9 |  15 | PHELAN Brittany | 1991 | CAN |
|  9 |  14 | THALMANN Carmen | 1989 | AUT |
|  9 |  13 | DAUM Alexandra | 1986 | AUT |
|  9 |  12 | HOSP Nicole | 1983 | AUT |
|  9 |  10 | SCHILD Bernadette | 1990 | AUT |
|  9 |  9 | GEIGER Christina | 1990 | GER |
|  9 |  6 | PIETILAE-HOLMNER Maria | 1986 | SWE |
Men:
| | | | | |
| --- | --- | --- | --- | --- |
| Rank | Bib | Name | Year | Nation |
|  1 |  1 | HIRSCHER Marcel | 1989 | AUT |
|  2 |  3 | MYHRER Andre | 1983 | SWE |
|  3 |  4 | KOSTELIC Ivica | 1979 | CRO |
|  4 |  2 | NEUREUTHER Felix | 1984 | GER |
|  5 |  12 | CHODOUNSKY David | 1984 | USA |
|  5 |  10 | GRANGE Jean-Baptiste | 1984 | FRA |
|  5 |  8 | BYGGMARK Jens | 1985 | SWE |
|  5 |  6 | DOPFER Fritz | 1987 | GER |
|  9 |  16 | JOHANSEN Truls | 1989 | NOR |
|  9 |  15 | FELLER Manuel | 1992 | AUT |
|  9 |  14 | HAUGEN Leif Kristian | 1987 | NOR |
|  9 |  13 | KHOROSHILOV Alexander | 1984 | RUS |
|  9 |  11 | HOERL Wolfgang | 1983 | AUT |
|  9 |  9 | HERBST Reinfried | 1978 | AUT |
|  9 |  7 | GROSS Stefano | 1986 | ITA |
|  9 |  5 | MOELGG Manfred | 1982 | ITA |