Haines, AK – A heli-ski guide died on Sunday in the mountains near Haines, in southeastern Alaska.
Christian Arcadio Cabanilla, 34, died when a snow cornice gave way beneath his skis while leading two clients, according to a press release issued by the Alaska State Troopers. While Cabanilla died, the two guests sustained non-life threatening injuries.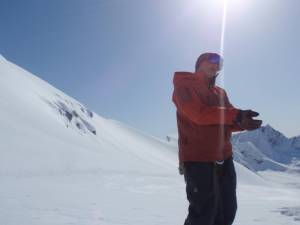 "(Cabanilla) and two clients were traversing an area when the underlying snow gave way unexpectedly causing the skiers to fall," troopers wrote in a Monday dispatch.
Cabanilla was employed with Southeast Alaska Backcountry Adventures (SEABA). He was found unconscious and was transported to a medical clinic in Haines, where he was pronounced dead.
The SEABA website describes Cabanilla as a helicopter pilot and snowboarder with over a decade of guiding experience in Alaska, Patagonia and Antarctica. He held an American Avalanche Institute Level III certificate.