Broomfield, CO – Vail Resorts, Inc. on Wednesday announced its calendar 2013 capital expenditure plan that includes a high-impact new lift, significant terrain expansion, a new restaurant and the fourth generation of EpicMix, as well as $25 million in spending for the first phase of its new summer operations and nearly $10 million in upgrades for each of the company's two recently acquired Midwestern ski resorts, Afton Alps in Minnesota and Mt. Brighton in Michigan. It's the largest number of planned improvements in the company's history.
"The 2013 capital plan is unprecedented in its size and underscores our operating philosophy of continually reinvesting in our resorts to offer the absolute highest quality experience to our guests and highlights several of our unique growth opportunities in Epic Discovery and newly acquired resorts," said Rob Katz, Vail Resorts' chief executive officer. "Our commitment to continually investing in our resorts to enhance the guest experience grows our season pass programs that create customer loyalty, supports our premium pricing strategy, drives new visitation, and increases guest spending. This year's plan represents the culmination of many years of hard work with recent regulatory approvals allowing for projects such as Epic Discovery and the Peak 6 terrain expansion at Breckenridge, as well as a focused acquisition strategy that allows for a stronger connection to skiers and riders in Minneapolis and Detroit."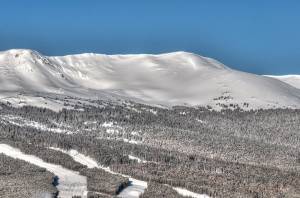 All told, the company currently anticipates it will spend approximately $130 million to $140 million in resort capital expenditures in calendar year 2013, including approximately $47 million to $52 million in maintenance capital including routine replacement of snow grooming equipment and rental fleet equipment. All of the proposed capital projects are subject to applicable regulatory approvals, including U.S. Forest Service approval.
The biggest project on the agenda is the controversial Peak 6 terrain expansion at Breckenridge, which includes two new chairlifts and 543 acres of new terrain, a 23 percent expansion in skiable acreage. Peak 6 will offer an intermediate bowl skiing experience, with the opportunity for a wide variety of guests to ski this new high alpine area that sits above tree line. The project's proponents argue that Peak 6 will better disperse skiers  across the busy Colorado ski resort, which is perennially the first or second most visited mountain resort in the U.S.
Also in Colorado, Vail Mountain's Chair 4 (Mountain Top Express) will be replaced with a high speed, six-person chairlift. The lift is one of the most highly utilized chairlifts in North America, serving both a critical skiing pod for the mountain and an important transportation lift from Lionshead and Vail Village to the resort's popular Back Bowls and Blue Sky Basin. The new six-person chairlift will increase capacity by 33 percent, dramatically reducing lift lines and complementing the mountain's newly built Gondola One.
Officials will build a new 500-seat Red Tail Camp restaurant at nearby Beaver Creek in advance of the 2015 World Alpine Ski Championships. The new facility will be located at the finish of the men's and women's downhill courses, more than doubling the existing restaurant's capacity. Red Tail Camp will offer gourmet dining options in an upscale cafeteria setting and will add a second high quality and high capacity dining venue for Beaver Creek, better positioning the resort for continued growth in visitation much as the new Tamarack Lodge did at Heavenly and the Zephyr Lodge accomplished at Northstar, both in California.
The company is planning major enhancements and upgrades to its newly acquired Afton Alps near Minneapolis, Minn., and Mt. Brighton near Detroit, Mich. Vail Resorts plans to invest nearly $10 million at each resort to bring a completely new ski experience to these markets, which are home to more than 450,000 skiers and riders. Plans include substantial improvements in snowmaking to extend the season and provide a more consistent and high quality snow surface, the creation of state-of-the-art terrain parks with extensive new features, animation and dedicated lifts, upgrades to base area facilities, the addition of EpicMix, EpicMix Racing and lift ticket scanning to personalize the guest experience and better promote the company's, and improvements to guest safety across the ski areas. These improvements are being announced along with new season pass plans for the resorts and a more dedicated sales effort in those markets to drive a stronger connection between those guests and the company's Colorado and Tahoe resorts. Vail Resorts officials caution that following these plans, future capital spending at each resort will be more limited in scope.
This first phase of Epic Discovery, the company's summer mountain activity plan, is to be implemented in 2013 and includes approximately $25 million to transform the summer experience at six of its mountain resorts: Vail, Beaver Creek, Breckenridge, Keystone, Heavenly and Northstar. Plans for each mountain, include a selection of zip lines, ropes courses, signature climbing walls, Forest Flyers mountain coasters, summer tubing, expanded hiking and mountain biking trails and education centers. Each of these new activities will capitalize on the existing summer visitation at each resort and leverage existing infrastructure, creating the opportunity for high-impact and high-return projects, company officials indicate, adding that they expect these activities, in total, to generate approximately $7 million of incremental Mountain Reported EBITDA in their first full summer of operation.
Building on its popular smartphone and web-based product, EpicMix Academy will be the fourth generation of the company's EpicMix application, following the introductions of EpicMix Photo and EpicMix Racing. With EpicMix Academy, the company's ski school instructors will be able to certify the attainment of certain skills and ski levels for any of the students in their classes. Children and adults in both group and private ski lessons will be able to earn permanent recognition and review their accomplishments online. Parents will be able to track the progress of their kids and the company's ski schools will immediately know the ability level of every student before the start of each lesson. EpicMix Academy will offer special certified digital pins, which can be easily shared through Facebook and Twitter along with pins for vertical feet, photos and racing medals.
Vail Resorts plans to utilize cash on hand, borrowings available under its credit agreement and/or cash flow generated from future operations to provide the cash necessary to execute its capital plans.