Tordrillo Range, AK – Heli-ski and multi-sport operator Tordrillo Mountain Lodge has expanded its operations by opening its second lodge, TML2, in Alaska's Tordrillo Range northwest of Anchorage.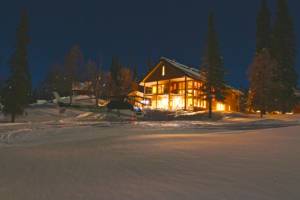 Featuring modern architectural design and influence, TML 2's 4,600 square feet of beautiful hardwoods and stainless steel pair with a plush, yet cozy environment, greeting each guest with breathtaking views of the Tordrillo Range through giant floor-to-ceiling windows.
"We're excited to build on the world-class product that we offer with the addition of TML 2," said Mike Overcast, who co-owns Tordrillo Mountain Lodge with fellow heli-ski pioneers Greg Harms and Tommy Moe. "Pairing the private lodge experience with the incredible skiing that Tordrillo Mountain Lodge has become known for will be huge for our guests."
Eight guests per week will have the opportunity to enjoy TML 2's five large bedrooms with private baths, fully stocked bar and complete wine list, private chef, in-house massage therapy and wood-fired hot tub. One Astar B2 helicopter will be stationed at TML2.
For more information on Tordrillo Mountain Lodge, call (907) 569-5588 or visit www.tordrillomountainlodge.com.