Muharraq, Bahrain – Plans to build a $51 million indoor ski resort in Bahrain, stalled since 2007, are back in motion.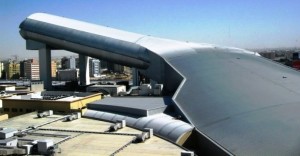 Bahrain's Municipalities and Urban Planning Affairs Minister, Dr. Juma Al Ka'abi, and Bahraini investor Fouad Shuwaitar have reached an agreement to restart the project abandoned by a Kuwaiti investor, the Gulf Daily News has reported. Shuwaitar is partnering with Golden Globe Trading and Consultancy Services of India to build the three-story shopping complex, business center and convention space on the site of the Grand Muharraq Garden near the Bahrain International Airport that may be anchored by the country's first indoor ski slope.
Shuwaitar is still looking for an investor to partner on the skiing portion of the development after earlier plans to build a hotel and apartments were dropped from the project. Construction, which is anticipated to take three years, is expected to get underway in January.
A massive indoor ski facility already exists elsewhere in the Middle East in Dubai.