Stowe, VT – Stowe's Trapp Family Lodge has been selected as host of the 2014 Junior National Cross Country Ski Championships.  The community celebrations and races, sanctioned by the United States Ski Association (USSA) will be held March 1 through 8, 2014 on the Trapp Family Lodge's 100-kilometer network of cross country ski trails.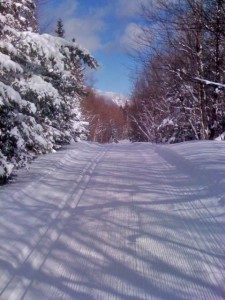 The awarding of this national race to the Trapp Family Lodge may come as a surprise to people unfamiliar with cross country skiing.  A little-known fact is that Johannes von Trapp started what is considered to be the first full service cross country ski center in America, in 1968. The youngest son of Maria and the Baron von Trapp, Johannes foresaw a growing interest in what was then viewed as primarily a European pastime.
In anticipation of the 2014 Junior National Cross Country Ski Championships, the trail crew at Trapp Family Lodge has been hard at work. The bulk of the improvements can be seen in the stadium, where there are new terraced and leveled lanes leading to reshaped turns and berms. The start lane is ready to accommodate the hectic nature of a mass start skate race, and the new timing shack pad is in place and ready for exhilarating photo finishes. A new viewing area above the finish line will give spectators an excellent vantage point, and trails are being cut for trailside viewing by snowshoe. Multiple climbs on the course have been widened, and Paul McNeil, Director of Sports at Trapp Family Lodge, says that "passing opportunities and the whole flow of the course are greatly improved."
The Trapp Family Lodge anticipates hosting 450 young athletes, their families, support teams, and all spectators. The event will require hundreds of volunteers, thousands of hours, and a major investment in event activities, support, as well as infrastructure specific to this race event. Those interested in volunteering their time, or contributing through sponsorship or donation, may visit www.jn2014stowe.com.