Philipsburg, MT – A decade after it was first proposed, the U.S. Bureau of Land Management (BLM) has approved a new access road that will dramatically lessen the time needed by many to reach Montana's Discovery Ski Area.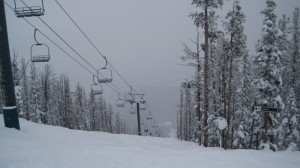 The federal agency last week released its Decision of Record that will allow construction of the 4,800 foot-long road across 160 acres of public land south of Philipsburg. The road will cross Fred Burr Creek and connect Rumsey Road with the north base of the ski area, to which there is currently no public vehicle access. The Record of Decision grants a right-of-way for the road for 30 years.
Discovery officials, who hope to have the new road completed within two years, estimate that it could save up to 25 miles of driving for skiers from Philipsburg and Missoula over the existing route.