Crystal Mountain, WA – When Crystal Mountain ski patroller Kim Kircher and her partners Megan and Michelle lit a 90-second fuse on a bag of explosives and hid behind a ridge for protection, they knew that the avalanche it would trigger was going to be big. After all, anything triggered by a massive 25 pounds of explosives is almost guaranteed to be big.
But no one expected it to be that big.
"As soon as the shot went off, my route partners and I ( we were a team of three women that my husband [Crystal Mountain owner John Kircher] now calls the Three Shivas) knew it was big," Kircher, a 25-year veteran of the Crystal Mountain patrol, wrote on her blog kimkircher.com. "We approached the ridge and looked down. The avalanche was just separating from the slope and noisily tearing down the mountain.
"At first all I heard was a low whoosh. Then a deep rumble. Next I heard the terrible sound of trees snapping. Finally I heard the sound of twisting metal."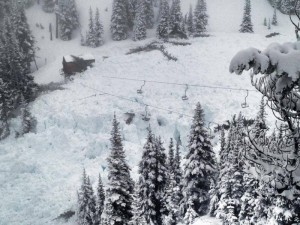 That sound of twisting metal was the last dying gasp of Crystal's High Campbell chairlift, the highest at the Washington State resort. A fixed-grip double already scheduled for replacement within the next five years, Kircher and her partners merely accelerated the timetable for the lift's demolition. The avalanche ripped down from The Throne and smashed into the lift, knocking the lower bullwheel from the lift and destroying the lift attendant's shack.
Of course, the slide occurred prior to the resort's opening for the day. No one was injured. But it was of a size and scope that no one anticipated.
"Talking to the old time patrollers who managed these slopes decades ago, nothing of this size has ever slid before," Kircher wrote. "Maybe back in the pre-Crystal, pre-skier-compacted days this kind of thing happened. But not since Crystal has operated at a ski area."
Weather systems crossing Crystal Mountain had just saturated 10 feet of snow received during February with six inches of rain. The slide triggered by Kircher's team ripped down to a layer of snow from December.
Despite the destruction, Kircher says that Crystal Mountain officials have no regrets about detonating that 25-lb. bag of explosives.
"When we decided to use explosives on The Throne, we all knew the consequences. But it was much better to destroy a lift when it was closed than to risk an avalanche when it was opened and occupied," she wrote. "We didn't have a choice. Upper management knew the risk too, and my husband was all in. We had to do this thing."
It's expected that this summer's replacement for the High Campbell lift will cost the resort approximately $1.75 million.