Levi, Finland – Olympic gold medalist and reigning World Cup champion Mikaela Shiffrin, of Eagle, Colo., was electrifying in her opening turns on the first run of the Audi FIS Ski World Cup slalom opener in Finland on Saturday. But an uncharacteristically conservative approach on the Levi Black steeps got the best of her, as she fell 1.71 seconds back on the first run, finishing 11th behind race winner Tina Maze of Slovenia.
"It's the best feeling in the world when you can have fun between the gates. It really helped to come to Levi a bit earlier as the conditions for training were great," Maze said. "The training slope preparation, the winter temperatures and gym facilities here were ideal so I felt I was really able to prepare for the race."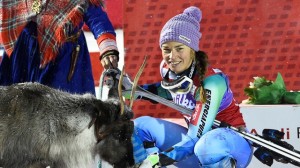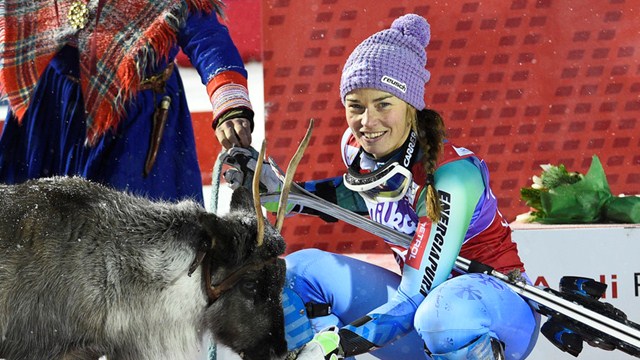 Saturday's race belonged to Maze. The 31-year-old who won Olympic downhill and giant slalom gold in Sochi conquered the challenging slope, snagging the win and a Lapland reindeer. After a disappointing 2014 season, Maze claimed her fourth career World Cup slalom victory, and her first slalom win in two seasons. Sweden's Frida Hansdotter finished in second, 0.34 seconds back and Austria's Kathrin Zettel rounded out the podium, 0.52 seconds out.
"I'm pretty disappointed with my skiing today. I feel like I've been training much, much faster than the way I raced today, especially the first run," Shiffrin said after the finish. "Second run felt a little better, but still not nearly what I'm capable of. But the fact is I came into this race thinking 'I'm going to get another reindeer, and I'm skiing well in slalom.' I took the competition for granted, and it's a lesson to be learned for next time."
Levi Black is known as one of the toughest slalom slopes on the women's circuit, combining a rather flat top section with a steep pitch, which requires skiers to quickly adapt.
"Something that always worked for me was to feel like the underdog and come from behind," Shiffrin, who won in Levi in 2013, explained. "Even if I was the favorite to win, I'd always come into races and do my best to ski my very fastest – not ski for the win – ski for my fastest skiing and ski because I like to ski fast. That's why I'm doing the sport. I have no excuses, no one to blame. My skiing just wasn't fast."
In other American action, Resi Stiegler (Jackson Hole, Wyo.) was sitting in 21st after first run and ended up 18th. Paula Moltzan (Lakeville, Minn.) and Hailey Duke (Boise, Idaho) also started but didn't make the flip after first run. Canadian women fared better than their U.S. counterparts, as Marie-Michèle Gagnon of Lac Etchemin, Quebec, came up with her best result in 10 months at the international level, skiing to a sixth-place finish.
"The positive aspect today is that I didn't ski my best, in the second run especially, and I still ended up sixth," noted Gagnon. "While last year, I would have had to come up with my best skiing to finish sixth."
It was the 25-year-old Canadian's 17th career top-10 result in a World Cup slalom, and third straight in Levi. She finished fifth last year in Finland, and 10th in 2012.
"In Levi, the snow is always perfect. You can really be on the attack. And because I have a relatively direct style of skiing, it's good for me to be on snow that's reacts in that way," explained Gagnon. "It also gives way to a race that is fair for everyone. Here, a skier who starts 70th still has a chance to finish fifth if she has the run of her life."
After Saturday's race, it's clear that Maze is back in the hunt for the overall World Cup title this season, jumping past Austria's Anna Fenninger with Shiffrin retaining the lead. The U.S. women's World Cup tour team will now roll back to North America to prepare for the Nov. 29-30 Nature Valley Aspen Winternational in Colorado with a training camp at the U.S. Ski Team Speed Center at Copper Mountain.
OFFICIAL RESULTS
FIS Alpine Ski World Cup
Levi, Finland – Nov. 15, 2014
Women's Slalom
| Rank | Bib | Name | Run 1 | Run 2 | Tot. Time |
| --- | --- | --- | --- | --- | --- |
| 1 | 13 | MAZE Tina | 58.12 | 57.03 | 1:55.15 |
| 2 | 1 | HANSDOTTER Frida | 58.51 | 56.98 | 1:55.49 |
| 3 | 6 | ZETTEL Kathrin | 58.97 | 56.70 | 1:55.67 |
| 4 | 2 | PIETILAE-HOLMNER Maria | 58.81 | 56.93 | 1:55.74 |
| 5 | 8 | LOESETH Nina | 59.41 | 56.91 | 1:56.32 |
| 6 | 5 | GAGNON Marie-Michele | 58.87 | 57.64 | 1:56.51 |
| 7 | 9 | STRACHOVA Sarka | 59.22 | 57.45 | 1:56.67 |
| 8 | 30 | GISIN Michelle | 59.64 | 57.04 | 1:56.68 |
| 9 | 12 | HOSP Nicole | 59.45 | 57.52 | 1:56.97 |
| 10 | 22 | DAUM Alexandra | 59.75 | 57.41 | 1:57.16 |