Aspen, CO – After a one-year hiatus, the women's Audi FIS Ski World Cup at the Nature Valley Aspen Winternational is back this year and will take place on Aspen Mountain in Colorado on Saturday, Nov. 29 and Sunday, Nov. 30.
Since the first sanctioned races took place on Aspen Mountain in 1939, the venerable ski resort has consistently upheld the long-standing tradition of alpine ski racing and is once again hosting a stop on the women's World Cup circuit. Spectators are invited to the base of Lift 1A to enjoy prime viewing of the finish line from the grandstands as well as attend a host of free Aspen Winternational events surrounding the races.
Giant Slalom racing will start on Saturday at 10 a.m., followed by the finals at 1 p.m. On Sunday, the Slalom races will begin at 10 a.m. with the finals starting at 1 p.m. Watch some of the best female ski racers in the world including U.S. Ski Team athletes Mikaela Shiffrin, who has already nabbed an Olympic slalom gold medal as well as two slalom overall titles, and Julia Mancuso, who has four Olympic medals including one gold in the Torino giant slalom. The races will also include top international athletes from 19 countries.
"The perfect start to our ski season always includes plenty of snow and World Cup racing on Aspen Mountain," says John Rigney, Vice President of Sales & Events, "Aspen Winternational provides an opportunity to highlight Aspen Snowmass to a global television audience, brings the best women racers to town, and rewards our passionate skiers and loyal racing fans."
To watch the races on TV, the Saturday giant slalom final will be broadcast in HD on NBCSN at 3 p.m. MST and the Sunday slalom final will be broadcast live in HD on NBC at 1 p.m. MST.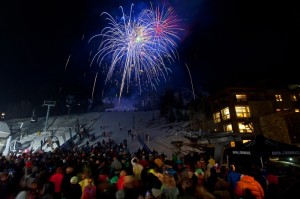 The races are surrounded by an abundance of free activities that turn the event into a weekend-long celebration. Beginning on Friday, Nov. 28 a World Cup Kick-Off Party will take place at the Limelight Hotel in downtown Aspen from 5:30 p.m. to 7:30 p.m. featuring a U.S. Ski Team autograph signing from 5:30 p.m. to 6:30 p.m. followed by a public bib draw with announcer Chris Davenport from 6:30 p.m. to 6:45 p.m. Limelight happy hour food and drink specials will be available including $10 cheese and pepperoni pizzas, $2 Bud Light, $4 draft beer, $6.50 house wine and $6 cocktails. The event will also include U.S. Ski Team prize giveaways.
In addition to the best female ski racers in the world taking to Aspen Mountain to compete for the chance to stand on top of the podium, Saturday, Nov. 29 will include the Taste of Winternational at 11:30 a.m. with complimentary food samples from the Ullrhof restaurant in the finish area. Live music, crowd giveaways and a children's slalom gate foot race will also take place at 11:30 a.m. between the ladies first and second giant slalom runs.
Later in the evening on Saturday, spectators can head to the Upper Gondola Plaza at the base of Aspen Mountain to enjoy a free Bud Light Hi-Fi Concert Series featuring Reel Big Fish from 6:30 p.m. until 8 p.m. followed by the women's giant slalom awards ceremony. At 8:15 p.m. the night sky above Aspen Mountain will light up with a fireworks show.
Sunday, Nov. 30 will once again present the best female ski racers in the world competing for the coveted first place position. Between the first and second slalom races, the finish area will once again feature the Taste of Winternationl with food samples from Lynn Britt Cabin, live music, prize giveaways and a children's race.
Other events that will highlight the weekend include a sponsor village in Gondola Plaza, wax room tours from 4:30 p.m. to 5:30 p.m. on Friday, Nov. 28, Winternational themed window decorations in stores around Aspen and a Dine Around Program with participating restaurants such as Ajax Tavern, element47, Jimmy's, Rustique, Matsuhisa and more that will offer a special prix fixe menu from 6 p.m. until 9 p.m. each night.
Free shuttles to the races will run every 15 minutes with stops at the intersection of Monarch & Dean Streets, Galena & Dean Streets and the venue entrance located at Monarch & Summit Streets.
In conjunction with the famed World Cup races, Aspen Mountain and Snowmass will be open for skiing and riding with an abundance of natural snowfall owing to the recent storm cycle that dropped up to 28 inches of snow across the upper peaks, plus more in the forecast for this coming weekend. Aspen Mountain is scheduled to open early Saturday, Nov. 22 and Snowmass will begin winter operations Thursday, Nov. 27.
In addition to the World Cup races, Aspen will once again host the FIS NorAm Cup races from Dec. 1-Dec. 4. NorAm's will feature men's and ladies giant slalom races on the same course used during the World Cup.
The International Ski Federation awarded Aspen the 2017 Audi FIS Ski World Cup Finals. This marks the first time the event has been held in the U.S. in 20 years. The Mar. 15-19, 2017 event will feature the best men's and women's alpine skiing athletes in the world, competing in downhill, super G, giant slalom, slalom and nation's team event.