Vail, CO – U.S. Olympic champion ski racer Ted Ligety suffered an injury to his left wrist while training on Saturday at Vail's Golden Peak.
According to U.S. Ski Team Medical Director Kyle Wilkens, Ligety suffered a left wrist carpal dislocation. He underwent surgery with U.S. Ski Team physician Dr. Randy Viola at the Vail Valley Medical Center Saturday afternoon.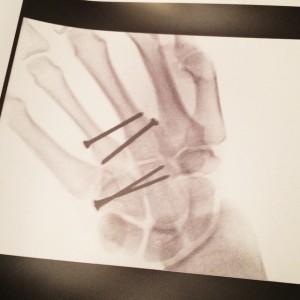 "Tried to split my hand in half today," Ligety posted to Facebook on Saturday. "Four screws later and I will be skiing in a couple days. Luckily I was in Vail and legend Dr. Viola could screw it together (a) couple (of) hours later."
Doctors anticipate that Ligety should be back skiing shortly. He will be fitted with a special splint to wear while skiing. There was no determination yet as to whether it will impact his participation in the Audi FIS Ski World Cups in Lake Louise or Beaver Creek. Ligety had been scheduled to ski in the super G at Lake Louise Nov. 30 before the tour heads to the Audi Birds of Prey Race Week in Beaver Creek.