Park City, UT – Utah's Deer Valley Resort will once once again host the 2015 FIS Freestyle Ski World Cup, January 7 through January 10. Aerials and mogul competitors from around the world will challenge each other and themselves on Deer Valley's 2002 Olympic runs. All events are free to the public to spectate.
"FIS Freestyle Ski World Cup has become a time-honored, crowd-pleasing event that athletes from around the world, visiting guests to Utah and Park City locals look forward to each year," said Bob Wheaton, president and general manager of Deer Valley Resort. "We look forward to another amazing display of athletic ability on our slopes."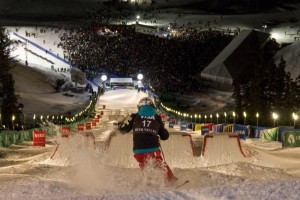 Festivities begin Wednesday, January 7, 2015, on Park City's lower Main Street, from 7 to 10 p.m. with the bluesy rock sounds of Chris Robinson Brotherhood and fireworks immediately following.
Competition takes place in the evenings, under the lights at Deer Valley Resort, starting with aerials on the White Owl ski run on Thursday, moguls on Friday and dual moguls on Saturday, both on the Champion ski run.
Wednesday, January 7, 2015:
7 p.m. – A free live concert featuring Chris Robinson Brotherhood will take place on lower Main Street in Park City. The celebration continues immediately after the concert with a fireworks display.
Thursday, January 8, 2015:
2:45 to 3:20 p.m. – Ladies' Aerial Qualifications on White Owl ski run
5 to 5:50 p.m. – Men's Aerial Qualifications on White Owl ski run
7:45 to 8 p.m. – Aerial athlete showcase
8 to 9 p.m. – Ladies' and Men's Aerial Finals
9 p.m. – Awards and fireworks in the competition venue
Friday, January 9, 2015:
3 to 4 p.m. – Ladies' Mogul Qualifications on Champion ski run
5 to 6:25 p.m. – Men's Mogul Qualifications on Champion ski run
7 to 8 p.m. –Ladies' and Men's Mogul Finals
8 p.m. – Awards and fireworks in the competition venue
Saturday, January 10, 2015:
4:55 to 6:40 p.m. – Ladies' and Mens' Dual Mogul Prelim Rounds on Champion ski run
7 to 8:20 p.m. – Ladies' and Men's Dual Mogul Finals on Champion ski run
8:25 p.m. – Awards and fireworks in the competition venue