Wengen, Switzerland – Park City's Ted Ligety battled the alpine combined—a downhill followed by one run of slalom—to be the top American in Wengen on Friday, finishing in fifth place. Carlo Janka of Switzerland won the race by 1.31 seconds and Victor Muffat-Jeandet of France was second, just ahead of Croatia's Ivica Kostelic.
"Good competition today. Hats off to Janka—first win for him in a long time," said U.S. Ski Team men's head coach Sasha Rearick. "It's nice to see a champion like him back on top."
The first run on Wengen's famed Lauberhorn downhill was solid for Ligety and Jared Goldberg, of Holladay, Utah, giving them good start numbers for the slalom portion. Ligety took 27th—a respectable finish for the tech skier.
"It wasn't great skiing. My turns were really grindy in some places," Ligety critiqued after his downhill run. "In this snow, you pay hard because there's decent snow out there." Goldberg finished 19th.
After the downhill, the men had to change equipment, location and their state of mind to get ready for the slalom run. Unlike a traditional ski race discipline, in which the audience can forecast the overall finish from the first run results, alpine combined is hard to predict.
Ligety had a clean slalom run, showing off his tech skills by skiing from 27th to fifth. He won this race in 2014, but with his result in downhill, he could not keep up to speedy Janka. Ligety now sits in sixth in the overall World Cup hunt. Goldberg, even with a few mistakes in downhill, pulled out 15th place, his first top-15 result of the season .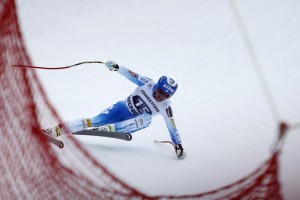 "My slalom is doing pretty good," Goldberg said before the second run. "I've been training a lot and I think it's the best it has ever been."
After running both downhill training runs, Bode Miller decided to forerun, instead of competing in the race.
"It was a hard decision to not race here," said Miller. "But I know this is the right decision here and I'm hoping I can go into Kitzbuehel and be ready.  My skiing is coming along, but it's my fitness. Unfortunately, these aren't gentle hills. There's no such thing as taking it easy in Kitzbuehel. I have to be prepared to race and win. It's going to be a last-minute decision there."
Tim Jitloff (Reno, Nev.) and Wiley Maple (Aspen, Colo.) DNF'ed in the slalom.
OFFICIAL RESULTS
Audi FIS Alpine Ski World Cup
Wengen, Switzerland – Jan. 16, 2015
Men's Combined
| Rank | Athlete | Country | Results |
| --- | --- | --- | --- |
| 1 | JANKA Carlo | SUI | 2:29.31 |
| 2 | MUFFAT-JEANDET Victor | FRA | 2:30.62 |
| 3 | KOSTELIC Ivica | CRO | 2:30.69 |
| 4 | MAYER Matthias | AUT | 2:30.74 |
| 5 | LIGETY Ted | USA | 2:30.95 |
| 6 | ZRNCIC-DIM Natko | CRO | 2:31.00 |
| 7 | CAVIEZEL Mauro | SUI | 2:31.30 |
| 8 | BANK Ondrej | CZE | 2:31.39 |
| 9 | MERMILLOD BLONDIN Thomas | FRA | 2:31.44 |
| 10 | PINTURAULT Alexis | FRA | 2:31.74 |