Tannersville, PA – Living in the northeast corridor isn't considered a prime location for skiers. Many of us habitually drive a minimum of two hours each way to the Catskills, four hours to the Adirondacks, five or more to Vermont, or sometimes we just bite the bullet and take a plane gooseoutlet.dk west. But for family skiers – those of us with kids who don't necessarily need 2,000 or more continuous vertical feet, but are looking for a fun winter experience with a decent hill, high-speed lifts, snowmaking, night skiing, and especially important, a limited amount of driving – there are a number of options that fit the bill nicely.
The Pocono Mountains in northeastern Pennsylvania are the most obvious draw for winter lovers hailing from the New Jersey, New York City, and Philadelphia metro regions. There are several family ski areas in the region that address that need in various ways – including Shawnee, Big Boulder/Jack Frost, and Alpine Mountain – but for those looking for a complete canada goose Mystique Parkafull-service destination that not only includes an incredibly convenient location but also plenty www.gooseoutlet.dk of terrain, numerous lodging choices, a number of non-skiing activities, and numerous close-by dining and shopping options, Camelback checks all of those boxes and then some.
Location, Location, Location

First things first: Camelback's advantageous geographic position, just a couple of minutes from Interstate 80 just west of the Delaware Water Gap, makes it a logistical no-brainer for millions of people. There's a nice selection of trails for all skill levels spread across a long ridgeline, served by two high-speed lifts covering 820 vertical feet as well as several fixed-grip lifts for busy days – highly recommended as they provide direct access to a bunch of comparatively overlooked trails with a nice, consistent pitch. With snowmaking covering 100% of its 160 skiable acres and 100% night skiing every day of the week, there's no excuse for not driving up for a quick fix of turns when the mood hits you. Over the years, I've done that a number of times and took advantage of several powder nights or excellent groomed conditions on deserted trails.
But as I learned this past weekend, families who use Camelback primarily for up-and-back day trips arecanada goose Ontario Parka mænd leaving a lot on the table because there are a lot of non-skiing activities, both at the resort itself and in the surrounding region. For starters, Camelback offers the largest snowtubing park in the United States (42 lanes, lit for night tubing) and a couple of years back they opened a fantastic attraction: Pennsylvania's only mountain coaster.
Although the ride only takes ten minutes, it's absolutely worth the $10 admission to go screaming down a series of high banked corkscrew turns through the hardwood and rhododendron glades. My son thought it was the greatest thing ever and would have purchased a season pass if it were offered. The only problem was when we skied on trails alongside the coaster afterward, he was so enthralled by his experience that he kept looking sideways at riders zooming down the track instead of paying attention to where he was skiing.
Camelback Lodge and Aquatopia Waterpark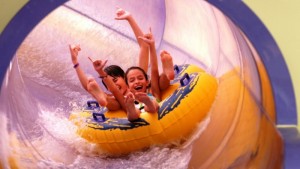 Despite all of the many innovations Camelback has made over the years to transform the ski area into a complete four-season venue (ziplines, a zipflyer, Segway tours, an outdoor water park in the summer), the game changer in the resort's 50 plus-year history is coming soon: the Camelback Lodge and Aquatopia Waterpark. Currently in the late stages of construction only a few steps from the Stevenson high-speed quad on the looker's left of the ski area, this $163 million investment will offer more than 450 guest suites in 24 different configurations (suites, lofts, etc.) for every possible family requirement, three sit-down restaurants, a 10,000-foot spa/fitness center, 20,000 feet of conference and meetings space, and the big enchilada: a cutting-edge 170,000-square-foot indoor waterpark, the largest ski-in/ski-in facility of its kind in the United States.
Given how popular Jay Peak's slopeside waterpark has been since its introduction a few years ago, imagine the effect that this state-of-the-art amusement park is going to have on Camelback's already impressive visitation rates – complete with a transparent roof that allows you to bask in the sun even when it's freezing cold outside.
Skiing and Riding For Everyone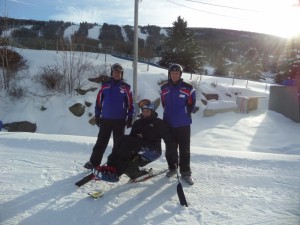 Another important component of how Camelback strives to provide enjoyment for everyone is that the resort has, since 2003, hosted the Pennsylvania Center for Adapted Sports (PCAS) to provide those with physical and developmental limitations the opportunity to enjoy the thrill of gliding down a snowy mountain. Led by Director Jeff McGinnis and the talents of more than 30 volunteer instructors – each highly qualified in teaching skiing or riding no matter the disability and filled with patience – the resort generously provides a large dressing room and equipment storage area along with logistical services to schedule and process adaptive visits.
Each 2.5-hour lesson is priced at an extremely affordable $60, which encompasses two instructors per student, equipment (including more than 20 donated sit/skis valued at $4,000 each), and an all-day lift ticket. Outfitted in easy-to-see blue coats, the instructors' enthusiasm for their work is contagious and the program's growth, with more adaptive skiers and riders taking part every year, is proof of Camelback's all-inclusive ethos.
Poconos Dining and Shopping
In addition to the extensive arsenal of high-end shopping at the nearby Crossings Outlet Center, anyone who's been to the Poconos can tell you chapter and verse about the dozens of places to get great meals in the area, many only a few minutes from the ski resort. Over the years, I've stopped a number of times for delicious après-ski craft beers and great pub food at the Barley Creek Brewing Company located right on the access road, but on this visit, we decided to check out a place that with its many billboards on roads throughout the area, had always piqued my interest: the Japanese sushi/hibachi restaurant Desaki, a short drive away on Route 611.
My son, wife, and many of the adults sitting around us spent a good 90 minutes smiling, screaming, and laughing along with the expert chefs as they cut, chopped, torched, and tossed a variety of delicious ingredients into customized, generously portioned dishes. The way that they mixed performance art, stand-up comedy, and top-flight cooking skills was lost on no one.
Back to Reality
So there you go – a family of confirmed daytrippers from the southern edge of ski country, who, better late than never, took advantage of the attractions of Camelback and the Poconos as an overnight skiing destination. As soon as the new Camelback Lodge and Aquatopia opens, we'll head back for more.