Zanesfield, OH – A fire on Wednesday night destroyed a base lodge at Mad River Mountain ski area in Zanesfield, near Bellefontaine.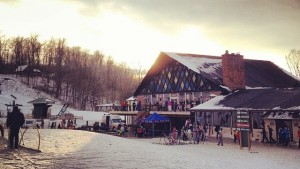 Sixteen fire departments from four counties fought in vain to save the A-frame structure known as The Loft. The building was fully engulfed when the first firefighters arrived on the scene around 7:30 p.m. Wednesday as exploding oxygen canisters maintained by the resort's ski patrol continued to fuel the fire. The flames could be seen from miles away. The State Fire Marshall's office is investigating the cause of the blaze, but arson is not suspected.
The building, with its faux stained glass windows, held a special place in the heart of many Mad River Mountain regulars. A spokesperson for the ski area, which is part of the Peaks Resorts portfolio, has indicated that the loss of the base lodge will not hinder or delay Mad River Mountain's 2015-16 ski and snowboard season.