Salt Lake City, UT – Ski Utah, a membership organization representing Utah's 14 alpine ski resorts, and Protect Our Winters (POW) today announced a partnership between the two organizations with the mission of raising awareness of climate change and uniting the winter sports community in the state of Utah.
Protect Our Winters is an environmental axis of the global winter sports community, powered by its goal of reducing the effect climate change is imposing on our local sports and economies. Ski Utah is dedicated to promoting the ski and snowboard industry in the state of Utah.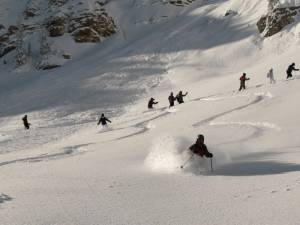 To demonstrate Ski Utah's immediate commitment, the organization's CEO and President , Nathan Rafferty, sent a letter to Utah Governor Gary Herbert asking for his public support of the EPA Clean Power Plan and to urge him to submit an on-time strategy to achieve the targets set forth in the Clean Power Plan.
"As a leading advocate for one of Utah's greatest assets, The Greatest Snow on Earth, and its $1.2 billion-dollar winter tourism industry, it is a natural fit for Ski Utah to partner with POW," says Rafferty. "POW has done an excellent job representing the global snowsports community in the fight against climate change. We look forward to supporting POW's mission and raising further climate change awareness here in Utah."
"We're honored to be partnering with Ski Utah," says Executive Director of Protect Our Winters, Chris Steinkamp, "With so much at stake and with so many POW members and athletes living in Utah, this partnership will only accelerate our efforts to unite Utah's winter recreation community around environmental responsibility and climate action this year."
Moving forward, Ski Utah will encourage snowsports participants to join POW's efforts through print, digital and social campaigns. In an effort to raise local and national awareness around the cause, Ski Utah, Protect Our Winters and Discrete with efforts, from Alta Ski Area and Snowbird Ski and Summer Resort, will be hosting the first "POW Day" on January 13, 2016. According to the National Oceanic and Atmospheric Administration (NOAA), statistically, January 13 has the highest percentage for snowfall in the Wasatch over any other day of the year. On this day Ski Utah will be encouraging skiers and riders to carpool, take Utah Transit Authority (UTA) ski buses or ride-share to help lower CO2 emissions, reduce traffic congestion and increase overall awareness around environmental accountability.