Gunnison-Crested Butte, CO – Let's start off by confronting an undeniable truth: skiing is expensive, and it always has been. Once you're past the cost of the initial learning curve (and resorts have thankfully done something about that in recent years), you're paying north of $100 for daily lift tickets and buying pricey gear and apparel every few years. Although gas prices have dropped considerably in recent months it still costs a pretty penny to top off that tank, and if you're traveling further than a day trip you're paying for hotel rooms, expensive food at resort prices, and possibly airfare and car rental, too. For a family it can be as costly – or more so – than going to Disney. And unlike a trip to Disney, which you'll only do perhaps once every five years or so, you want to ski on a regular basis. You have to. It's your destiny, after all!
While Colorado is the most popular ski state in the nation, it's also arguably the most expensive. This is the place where a lift ticket alone can set you back nearly $150. There's one ski resort in the southwestern part of the state, however, that has partnered with a local visitor's chamber to do something about that. How does a lift ticket and lodging for roughly half of that lift ticket price alone sound?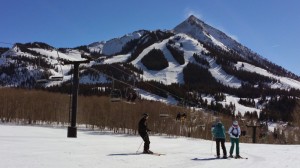 Enter the Gunnison Getaway program, promoted by Crested Butte Mountain Resort and the Gunnison-Crested Butte Tourism Association, that has arranged packages with lodging properties surrounding the small town of Gunnison, Colo., that start at $79 per person per night, double occupancy, depending on date and location. Those rates include both a lift ticket and overnight lodging! When you consider the fact that Crested Butte's daily window lift ticket rate alone is $108, this may well be the best deal in Colorado ski country. It's a dirtbag skier's dream come true.
Packages are available at properties all around the town of Gunnison, including the luxurious boutique lodging at the Inn at Tomichi Village with its on-site dining at Blue Mesa Grill and full-service bar, indoor pool and hot tub. A full list of participating properties for 2015-16, including prices and booking information is expected to be released on the official Gunnison-Crested Butte Tourism Association web site by mid-October.
"But," you protest, "that's 30 miles from the slopes!" That true, but that can be an asset instead of a liability. The area transit authority runs regular, frequent and free ski buses along CO-135 between Gunnison and the slopes. It's a broad, relatively straight and well-maintained rural highway with no mountain passes to cross or steep grades to climb. Want to stay in Gunnison but still grab après-ski or dinner in Crested Butte? The buses run late enough that you're covered, and they provide the built-in designated driver. Gunnison itself offers a wonderful variety of restaurants priced well below regular resort fare. And if you're flying into the area, you're likely landing in Gunnison anyway, and many of these lodging properties offer shuttle service to and from the airport.
It's the ski vacation deal of the year with no car required, so what's not to like?
We pulled into Gunnison one Friday afternoon late last January and checked into our room in town. After unpacking our bags in a surprisingly luxurious suite we found our way to the downtown nouveau-American Blackstock Bistro, where we dined on Ruby Trout ($13), accompanied by grilled artichokes, tomatoes and fingerling potatoes, drizzled with lemon caper butter and paired with specialty craft cocktails. The food was delightful, the ambience intimate, fresh and upscale. Service was friendly and attentive, and these were certainly not ski resort prices!
The following morning we hit the road to Crested Butte, a 30-minute trip, where there are actually two separate towns: the original historic Crested Butte that you encounter first, and the slopeside Town of Mt. Crested Butte another two miles or so up the hill. A constant free shuttle carries vacationers between the two.
Mt. Crested Butte is a modern, well-developed ski resort base village typical of many resorts around the U.S. and Canada. Here you'll find your usual assortment of multi-story hotels and condos, coffee shops, eateries, ski and souvenir shops, and services.
Once on the chairlift, however, you instantly understand Crested Butte Mountain Resort's split personality. While purists may be dissuaded by the ample base village, that's all left behind once your chair rises two towers up the mountain. Crested Butte is a true skier's mountain, with steep chutes, tumbling glades, backcountry style bowls and impeccable groomers in every direction. It's character is low-key, quirky and laid back, a marked departure from the resorts along Colorado's Front Range. The high-speed Silver Queen Express quad is a base-to-(almost)-summit lift that rises over 2,000 quick vertical feet from the heart of the village in one of the best bang-for-your-buck lift rides in the Rockies. And Crested Butte is sufficiently isolated, a four-hour drive from Denver across several high-altitude mountain passes, that it hardly ever sees a liftline.
Speed demons will love screaming down Crested Butte's steep, groomed International run for 2,000 verts, tears streaming from their eyes. Backcountry aficionados will feel right at home in-bounds in Crested Butte's Teocalli Bowl or the brand new Teo 2, right down to the exit hike. Adrenaline junkies can get lost for days in the resort's famed cliff drops and pillows of the North Face/Extreme Limits terrain.  And despite Crested Butte's well-deserved reputation for extreme terrain there's no "look at me factor" going on here. In fact, my very first lift ride was shared with a hardcore local who was uncharacteristically anxious to point out to me the lay of the land, and that welcoming feeling would persist throughout our visit.
Beginners will find acres and acres of friendly slopes off the resort's Red Lady Express, Painter Boy, Prospect and Gold Link lifts. Those latter three lifts also offer plenty of isolated intermediate terrain for blue square skiers seeking out a solitary experience, and a new umbrella bar situated at Ten Peaks between the top terminals of all three lifts offers unrivaled views of the main mountain.
Don't let the resort's reported 1,547 skiable acres fool you; Crested Butte skis much, much bigger than that statistic would indicate.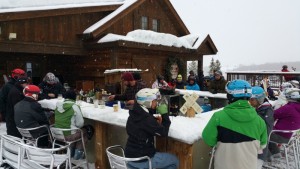 For an on-mountain dining experience like none other, be sure to ski up to Uley's Cabin off the Red Lady Express, complete with its own outdoor ice bar for a unique slopeside cocktail. A cozy, rustic dining room features a unique menu of haute cuisine with Colorado and French inspirations. Be careful, though, for after a meal at Uley's Cabin you may not want to hit the slopes for the rest of the afternoon!
Finally, a visit to Crested Butte is wholly incomplete without a stroll down the historic town's main commercial street, Elk Avenue. Crested Butte is perhaps one of the best preserved mountain towns from Colorado's mining era. Unlike some other restored resort towns that come to mind elsewhere in the state, Crested Butte is delightfully authentic and understated, yet caters well to visitors year-round.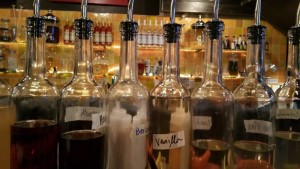 We found the merchants and restaurateurs in Crested Butte to be, without exception, friendly and welcoming. Sitting at the bar in the must-visit Montanya Distillers, we were made to feel like locals. We strolled into Paragon Art Gallery, expecting to have just a look around, and 45 minutes later we were still inside, making purchases and chatting with local artisans. One of those was Heather Peterson, a stained glass artist, avid tele racer and former Rocky Mountain Telemark Series Champion. A couple of her pieces came home with us to Utah.  Another of the artists spotted us at the mountain the following day and hunted us down to say hello — where else would that happen? And a pizza enjoyed from one of the deep couches downstairs at the Secret Stash has to be one of the quirkiest, most peculiar (and tasty!) dining experiences around.
Getting to the area this winter will be easier than ever thanks to direct non-stop flights into Gunnison-Crested Butte Regional Airport (GUC) from four major cities on two different airlines, including a new twice-weekly route on Alaska Airlines from Los Angeles International Airport (LAX). The new flight is scheduled for Wednesdays and Saturdays beginning December 16, 2015 and flying through March 26, 2016.
"There are a lot of encouraging opportunities for this new air service," explains Scott Clarkson, vice president of sales and marketing for Crested Butte Mountain Resort.  "Nationally, Los Angeles is the number one domestic market for destination skiers and snowboarders. Combine that with the fact that Crested Butte will now be a quick three hours of total travel time from L.A. and the great lodging offers we have in the marketplace right now, and you won't find a better ski vacation deal out there."
"I know lots of strong skiers from L.A., and they love our mountain and our town," adds John Norton, executive director for the Gunnison-Crested Butte Tourism Association. "We believe this new service is really going to work for the valley."
We departed from our quick weekend visit to Gunnison-Crested Butte feeling like we'd found a new friend. And at the price of a Gunnison Getaway, we'll surely meet again.
FOR MORE INFORMATION: