Park City, UT – The U.S. Grand Prix, the longest running winter action sports tour, has announced its 20th season schedule, with three stops including: Mammoth Mountain, Calif.; Park City, Utah; and the first-ever Grand Prix stadium big air in Boston's legendary Fenway Park.
The tour kicks off Jan. 21-24, 2016 at Mammoth Mountain. A longtime resort partner of the U.S. Grand Prix series, Mammoth will host both slopestyle and halfpipe competitions for freeskiing and snowboarding in its Unbound terrain park. Local Olympians Kelly Clark and Greg Bretz, along with snowboarding phenom Chloe Kim, are excited to have the U.S. Grand Prix back in their hometown.
"I'm excited that two of my favorite things, Mammoth and the Grand Prix, are coming together again," said Clark. "Mammoth and the Unbound crew always do a great job with the pipe and they have a long history hosting some of the best events in the sport."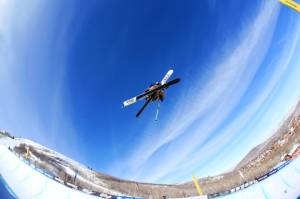 Park City, home of the 2002 Olympics and naming site of the 2014 U.S. Olympic freeskiing team, will host the second stop of the U.S. Grand Prix series February 4- 7. Known for its pristine 22-foot tall halfpipe, Park City will be hosting halfpipe competitions for both snowboarding and freeskiing at this legendary locale.
"We've been competing at the Park City Grand Prix for four years in a row," said David Wise, the Olympic gold medalist in freeskiing halfpipe. "It's one of my favorite events of the year with a good pipe and good crowds. Park City always puts on a good show."
For the tour finale, the U.S. Grand Prix will head east to the heart of Boston and home of Red Sox baseball glory, Fenway Park. For the first time in the U.S. Grand Prix's 20-year history, the U.S. Grand Prix will host a stadium big air for both freeskiing and snowboarding. Big Air at Fenway will take place Feb 11-12 and is expected to attract many of the best international big air athletes thanks to USSA's partnership with Snow Park Technologies (SPT), the industry leader in terrain park and jump design.
"I'm excited for the Big Air at Fenway. We're looking to shine some good light on freeskiing big air," said Olympic slopestyle gold medalist Joss Christensen. "I have a lot of faith in SPT—they've got their degrees and dimensions on point. I know they're gonna make an amazing jump that's safe and fun."
"I'm nervous and excited for the Big Air at Fenway," said Vermonter Ty Walker, an Olympian and winner of the first women's snowboarding FIS World Cup big air. "It means a lot to me and the other East Coast riders to have a major event in the East Coast and at such a legendary site like Fenway Park."
The U.S. Grand Prix tour will be sanctioned as FIS World Cups for both freeskiing and snowboarding at all three stops in addition to being Platinum Level events on the Association of Freeskiing Professionals (AFP) tour and International Level events on the World Snowboard Tour (WST).
All three stops of the U.S. Grand Prix will be aired live on NBCSN and live streamed on the NBC Sports Live Extra platform, with post event coverage on NBC. As World Cup events, all Grand Prix tour stops are broadcast worldwide with significant global reach. Last year's tour stop in Park City attracted an international broadcast audience of over 5 million in the U.S. and more than 7 million worldwide.
2015-16 U.S. GRAND PRIX SCHEDULE
U.S. GRAND PRIX, MAMMOTH MOUNTAIN, CALIFORNIA
Thurs. Jan. 21 – Snowboarding Slopestyle Qualifiers
Thurs. Jan. 21 – Skiing Halfpipe Qualifiers
Fri. Jan. 22 – Snowboarding Halfpipe Qualifiers
Fri. Jan. 22 – Skiing Slopestyle Qualifiers
Sat. Jan. 23 – Snowboarding Slopestyle Finals
Sat. Jan. 23 – Skiing Halfpipe Finals
Sun. Jan. 24 – Snowboarding Halfpipe Finals
Sun. Jan. 24 – Skiing Slopestyle Finals
U.S. GRAND PRIX, PARK CITY MOUNTAIN RESORT, UTAH
Wed. Feb. 3 – Skiing Halfpipe Qualifiers
Thurs. Feb. 4 – Snowboarding Halfpipe Qualifiers
Fri. Feb. 5 – Skiing Halfpipe Finals
Sat. Feb. 6 – Snowboarding Halfpipe Finals
U.S. GRAND PRIX, BIG AIR AT FENWAY PARK, BOSTON, MASSACHUSETTS
Thurs. Feb. 11 – Snowboarding Big Air Qualifiers & Finals
Fri. Feb. 12 – Skiing Big Air Qualifiers & Finals