Boulder, CO – Forecasts are starting to come out for the ski season ahead, and while some of our readers will be rejoicing with powder-filled dreams, others will likely be left crying in their après-ski beers.
Our friends at OpenSnow.com have released their forecast for the ski season ahead. OpenSnow founding meteorologist Joel Gratz and his team of forecasters, with substantial assistance from Dr. Amato Evan from Scripps Institution of Oceanography, have been hard at work analyzing sea temperatures and historical snowfall, and crunching the numbers to produce the first ski resort-specific winter outlook.
First, they gathered snowfall data from weather stations and weather observers that are near ski areas. They then explored the relationship between this historical snowfall data and global ocean temperatures, analyzing the effect of El Niño and La Niña years as the location of warmer-than-average and colder-than-average ocean temperatures plays a key role in creating our global weather patterns. They then assessed the current temperature of the world's oceans, and forecast how these ocean temperatures will change during the upcoming winter season. Finally, they combined their estimate of future ocean temperatures with knowledge of the ocean's impact on snowfall patterns.
Do a bit (or a lot of) math, and OpenSnow's ski forecast for this winter's snowfall was complete.
"We started working on this project because we wanted help answer the question that a lot of people think about when they are planning a ski vacation: Which areas will get a lot of snow this winter?" Gratz explains. "We know that not everyone plans their ski vacations around snow, but many do, or at least are curious about the risks for above or below average snowfall."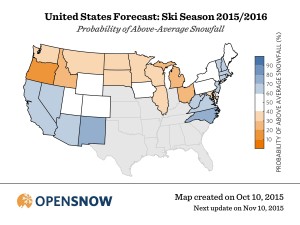 Looking at the results region by region, Gratz's forecasters believe that the Pacific Northwest can expect another below-average snowfall year, and snowfall is also predicted to be below normal across the northern plains and the Upper Midwest. With this year's El Niño in full effect, among the strongest on record, it's no surprise that California and the desert southwest can expect a bumper crop of powder days this winter, and there's no doubt that after the past few seasons California skiers have certainly earned it! The central Rockies and the Intermountain region (i.e. Colorado, Utah and Wyoming) can expect a near-average winter. And New England and the Mid-Atlantic can expect another banner winter following last year's strong season.
Moving across the country from west to east, here are a few of OpenSnow.com's snowfall predictions at specific resorts for winter 2015-16:
West Coast
Mammoth Mountain, Calif.: 103-137% of average
Squaw Valley, Calif.: 98-134% of average
Mount Bachelor, Ore.: 55-73% of average
Crystal Mountain, Wash.: 60-82% of average
Rockies and Intermountain West
Sun Valley, Idaho: 68-98% of average
Jackson Hole, Wyo.: 75-111% of average
Alta, Utah: 74-111% of average
Park City, Utah: 74-110% of average
Las Vegas Ski & Snowboard Resort: 99-133% of average
Arizona Snowbowl, Ariz.: 93-125% of average
Taos, N.M.: 112-140% of average
Aspen, Colo.: 86-122% of average
Vail, Colo.:  78-116%  of average
Winter Park, Colo.: 75-113% of average
Midwest
Afton Alps, Minn.: 73-109% of average
Boyne Mountain, MI: 57-83% of average
Mad River Mountain, OH: 62-92% of average
East Coast
Hunter Mountain, N.Y.: 93-127% of average
Whiteface, N.Y.: 92-126% of average
Jay Peak, Vt.: 97-131% of average
Killington, Vt.: 96-130% of average
Mount Snow, Vt.: 94-128% of average
Cannon Mountain, N.H.: 100-132% of average
Sugarloaf, Maine: 86-122% of average
Wachusett Mountain, Mass.: 98-132% of average
Snowshoe, W.V.: 104-136% of average
Gratz and his team will re-analyze their numbers approximately once a month throughout the ski season, with extra benefits available to his website's subscribers. For more information, visit OpenSnow.com.
"There are a lot of long-range forecasts out there but few if any of the forecasters offer accuracy statistics and tracking of the forecast through the season, so we wanted to be as transparent as we could be through this process.," Gratz told us. "Our forecast is accurate about 50 to 65% of the time (depending on region/resort), and I'm happy with this, especially at a range of six to seven months into the future. Just like five-day forecasts have improved during the last 10 to 20 years, we are betting that we can improve our snow forecasts over the next decade or two."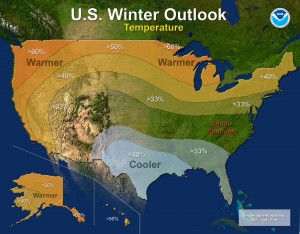 Gratz's forecasters' predictions for this winter jive with the more general winter outlook released earlier this month by the National Oceanic and Atmospheric Administration's (NOAA) Climate Prediction Center.  Their forecast calls for above-average temperatures in the Far West, Pacific Northwest and Alaska, and across the Northern Tier this winter, with near normal to slightly above normal average temperatures across the Intermountain West, Rockies and Northeast.
"A strong El Niño is in place and should exert a strong influence over our weather this winter," said Mike Halpert, deputy director of NOAA's Climate Prediction Center. "While temperature and precipitation impacts associated with El Niño are favored, El Niño is not the only player. Cold-air outbreaks and snow storms will likely occur at times this winter. However, the frequency, number and intensity of these events cannot be predicted on a seasonal timescale."
Other factors that often play a role in the winter weather include the Arctic Oscillation, which influences the number of arctic air masses that penetrate into the South and nor'easters on the East Coast, and the Madden-Julian Oscillation, which can impact the number of heavy rain storms in the Pacific Northwest.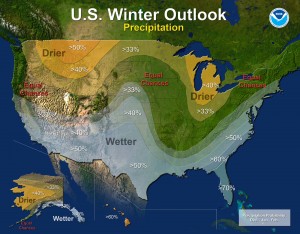 Focusing on ski regions, NOAA forecasters are predicting wetter-than-average conditions in southeastern Alaska, the desert southwest and in the Mid-Atlantic up into southern New England. Their outlook calls for drier than normal conditions this winter from the Pacific Northwest across the Northern Rockies to the Upper Midwest, Great Lakes region and Ohio Valley, as well as in central and western Alaska, with near normal precipitation across the Intermountain West, Central Rockies and Northeast.
NOAA's seasonal outlook does not project where and when snowstorms may hit or provide total seasonal snowfall accumulations. Snow forecasts are dependent upon the strength and track of winter storms, which are generally not predictable more than a week in advance, NOAA forecasters indicate.
Gratz agrees. "Six month forecasts cannot tell us when there will be powder days, or even what weeks will be the snowiest, but we had to start somewhere, and a seasonal outlook is a good spot to begin," he says.