Reno, NV – With the arrival of the Lake Tahoe region's first winter storm and with cold temperatures expected to continue through the week, Mt. Rose Ski Tahoe announced it plans to open for the 2015-16 winter season on Wednesday, a week later than originally planned.
That would make Mt. Rose the first Lake Tahoe area resort to open for skiing and snowboarding this season.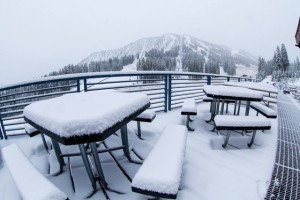 "Thanks to the first snowfall of the season and a forecast calling for cold temperatures to continue throughout the week, our experienced snowmaking and operations teams are hard at work building up snow base depths so we can get the lifts turning for our guests by mid-week," said Mike Pierce, director of marketing at Mt. Rose Ski Tahoe. "Mt. Rose benefits from having the highest base elevation at Lake Tahoe, so early season storms, paired with the cold temperatures we're starting to see set us up well to offer some of the best early season snow surfaces in the region."
As snowmaking operations continue leading up to opening day, the resort will share additional details regarding what terrain and resort services will be open, as well as ticket prices. Open lifts will operate from 9 a.m. to 4 p.m.