Stowe, VT – While on a mid-March visit to Stowe, my first time there in nine years, I spoke with Scot Baraw, the Director of Sales at the Stoweflake Resort which, with more than 150 employees, is one of the largest family owned businesses in the region. Leveraging his http://www.gooseoutlet.dk status as a born-and-bred "Stowe-ite," he provided an interesting point of view on one of the northeast's top winter resorts and ski towns.
Q: As a lifelong skier, can you tell people who've never been to Stowe what sets it apart from other destinations in the Northeast?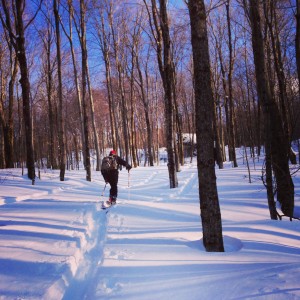 Baraw: In terms of any criteria – snowfall, terrain, and infrastructure – I don't think there's any question that Stowe is one of the premier ski areas in the northeast, but there are also a lot of intangiblecanada goose Sne Mantra Parka things at work. At many mountains, they cut a trail and give it three different canada goose Banff Parka names, but one often feels like the other. At Stowe, whether you're on a groomed trail, in the trees, or up in the alpine above the lifts, everything has a distinctive personality. Sorry for sounding like the Chamber of Commerce, but there's no other way to describe it than "classic, top-shelf New England terrain." In addition, even though the lift-served vertical is "only" 2,100 feet, it certainly skis a lot bigger than the numbers would lead you to believe. Add some great hike-to terrain above the lifts, piles of extensive glades, and you can put together some long, varied top-to-bottom runs.
The other key differentiator for Stowe is a distinctive sense of place that telegraphs to visitors pretty quickly "I'm in Vermont." There aren't too many regions left these canada goose Solaris Parka days that immediately give you such a feeling of geographic specificity. Not to take shots other ski regions, but you go to Killington and while it's a nice big mountain with a lot of terrain, at the bottom of the trails there's a kind of nondescript access road with many restaurants and bars, but no real sense of a town.
Q: So you have a pretty well-defined "value proposition."
Baraw: Of course we're aware that people have choices – you can fly out west and the ski areas are bigger and the conditions are generally more reliable than back east – so our value proposition is a high-quality northern Vermont experience, both at the ski area and off-mountain. I like to describe Stowe as a place where there's something for everyone to do, whether it's kids, adults, or seniors.
Equally important is that the activities here are, for lack of a better term, genuine, so if you're going on a hike, the trails often wind through a succession of beautiful natural areas rather than a series of contrived pathways. What I love about Stowe is that you can do things where it's easy to connect with your family and nature without a lot of obtrusive bells and whistles.
Q: When did you start skiing?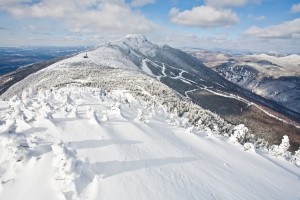 Baraw: Like pretty much everyone else around here, I was on skis at the age of 2. There were no magic carpets or other things to help kids learn and gain confidence back then; you went to the top of the mountain on the single chair or t-bar and had to sink or swim: no handholding!
Q: What was Stowe like when you were a kid?
Baraw: Before and during World War II, quite a few people from Austria emigrated here, so Stowe had that influence all the way up through the 1970s. As a kid, I remember a lot of ski bums who designed their life around freeing up time to head to the mountain and only worked to earn money. Over the years, it's transitioned into a more classic ski destination with a wide variety of restaurants and lodging.
Growing up in a small town, you always assume that there's something bigger and better elsewhere. After college, I traveled a bit and lived in a few different places but during that time I realized that Stowe really is a special place and eventually gravitated back here because it's home to me. There's a nice blend of rural beauty and sophistication that draws people here.
Q: Several times while on the lifts, people mentioned Johnson Wool Blankets.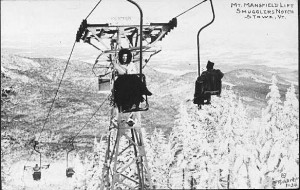 Baraw: The wool blankets are one of those folkloric things that visitors still talk about to this day and are part of the sense of place and history that I brought up earlier. For those who aren't aware of what we're talking about – decades ago, our single chair was so slow and the weather often seemed to be brutally cold (similar to last winter), they gave you these very heavy wool blankets for the lift ride that were manufactured by a local company. They were like a big poncho with a hole for your head. If it was really cold, they'd give you more than one and you could measure the temperature by the number of blankets people were wearing!
After 20 minutes on the chair, you'd take them off at the top and the lifties would load them on the empty chairs going down the mountain. Incredibly enough, the company that made the blankets is still in business and still located in nearby Johnson, Vermont!
Q: Another popular topic is the concept of an official interconnect to Smugglers Notch.
Baraw: Funny you mention that – a couple days ago, I was in the backcountry above the top of Big Spruce on my way over to Smuggs. I ran into a guy at the little hut up there and we got talking about the days when you could ski across and they'd let you on the lift to get back to the Stowe side. Personally, I think that an interconnect is a great idea and could add a lot of value to the ski experience at both resorts.
It wouldn't be difficult at all to implement because the two ski areas are on opposite sides of the same mountain. Realistically, it'd be more feasible if you could add a small additional charge for, say, up to five lift rides at the other ski area. That way, there wouldn't be a concern about one ski area's customers taking advantage the other's product without actually paying for it.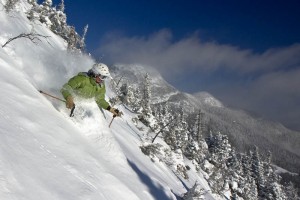 That said; I have no idea if it'll ever happen because while Smuggs obviously has excellent terrain, Stowe sees itself as a different type of product on a couple levels and there might be concerns of "diluting the brand" – that's my educated guess. Even if there were an agreement in principle, you still have the nuts and bolts of Stowe having a scannable RFID lift ticket and Smuggs still using the classic ticket on a wicket, so that would have to be addressed. Like many things in life, follow the money and you'll see why things happen or don't happen.
Q: It's interesting that Smuggs, despite all its expert terrain, is marketed as a family mountain; however, they still haven't updated their lifts, lodges, or ticket systems.
Baraw: Part of the answer to that is: they don't need to because Smugglers Notch wouldn't face the same backlash as Stowe for not having up-to-date infrastructure. If you charge top dollar, you need to have the product to back that up.
Q: What's the difference in visitation rates for Stowe between the summer months and ski season?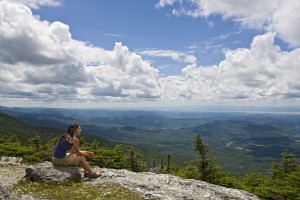 Baraw: Surprisingly enough: day-for-day, dollar-for-dollar, most business owners here would say that we're busier during the warm-weather months than winter. During the summer, everyone tends to get a day or two more vacation time and kids' schedules are obviously more flexible.
Moreover, the climate here is a lot cooler and people in New York and Boston can get away from the heat and humidity in the urban regions.
Q: Where does your clientele come from geographically?
Baraw: As far as leisure/non-group guests, it's predominantly people from outside Vermont. I'd say our biggest market is the Boston region with about 50%, New York/New Jersey 25 to 30%, and Canada 10 to 15%. Guests from north of the border tend to stay for shorter periods because they don't have to drive as far. Interestingly enough, during the summer we see big groups of Canadians coming down here in really high-end motorcycles. Also, at least half of the vacation homes in Stowe are owned by Canadians, including a significant number of Jewish Montrealers who started coming down here during the 60s and 70s and continue to consider Stowe as their perennial vacation spot.
I see more New York and New Jersey plates in the winter than the summer because when it's warm, people down there have more choices that are less of a drive: summer homes, the ocean, and so on, whereas during the winter, they know that you have to drive a bit to get to the best snow and terrain, so the extra effort and expense are rewarded.
Q: What's the biggest challenge that businesses face to attract prospective guests here?
Baraw: Two things: Stowe has a reputation for being pricy compared to other regions and of course, if you come here during the Christmas/New Year's holidays or President's Day week, just like anywhere else, you'll pay top market rates. That said; during the off-peak periods, you can get some great package deals through hotels that make the region very competitive price-wise and as mentioned before, we feel that our product is another level above the other destinations in the East, so if you have some flexibility on your travel dates, you get a really nice bang for your buck.
Contrary to the perception, you don't need to be a millionaire to come spend a great vacation here. Like every other ski region, during the last three of four weeks of the season, we have fantastic conditions, a great base of snow, comfortable temperatures, and very few visitors because many people are moving on to warm-weather activities.
The second misperception is connected to the first. Since Stowe is considered a top-tier East Coast destination, business owners here often get, "Oh, you must be raking in the bucks from your rich clientele!" comments. In truth, Stowe as a town is struggling with occupancy – I'd put it in the 40-50% range – which makes us even more motivated to provide a product that has a favorable price/value ratio. Compared to decades ago, people are taking shorter vacations, oftentimes two or three days instead of an entire week, so that's an additional challenge.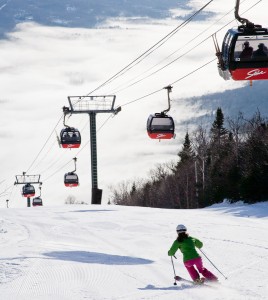 Q: During the winter, I assume that the majority of your guests are skiers?
Baraw: That's a logical presumption but incorrect! During ski season, only 40% are skiers; the rest are here for other things, taking advantage of the region's diversified portfolio, whether that's outdoor activities, spa treatments, tooling around the village, a Ben and Jerry's visit, snowshoeing, cross-country skiing, backcountry skiing, hockey, and skating.
Q: How has the development of the Stowe Mountain Lodge affected the existing hotel market?
Baraw: Prior to the opening of the Stowe Mountain Lodge, there was never a ski-in/ski-out product so the addition of 400+ rooms basically doubles the base of luxury accommodations in the town.
They're developing a lot of stuff up there and trying to create their own village setting. For hotels and resorts, these rooms become a competitive factor particularly during the ski season, when people want to take advantage of that convenience factor, and far less during the warm-weather months when it's a benefit to be in a more central position relative to the town.
Q: Is it a question of growing the pie or is the Lodge appropriating other businesses' pieces of the pie?
Baraw: Everyone in town is hoping that the Mountain Lodge increases the pie and brings an additional demographic level so that everyone comes out ahead, but during the ski season, I'd probably say the latter – they're cutting into the existing pie.
Q: Where does your resort fit into the landscape?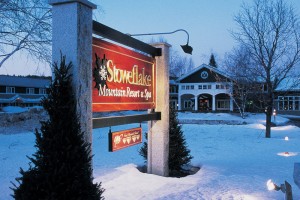 Baraw: With 150 employees, the Stoweflake is one of the bigger family owned businesses here. We're into our third generation with a fourth on the way. Founded in 1963 by Beatrice and Stuart Baraw , it started out as a 16-room inn and in 1970 Stu's brother Chuck moved to town with his family and joined the business. Over time, it morphed into what it is today: a 116-room hotel with 60 townhomes, a 35,000-square-foot spa, a 20,000-square-foot conference center, and two onsite restaurants.
What we're offering above everything else is a one-stop experience and that's valuable: a convenient location with all the different offerings. The family run aspect is also a big selling point for us. We combine top-of-the-line facilities with a really professional staff that provides the care you expect from a family that is personally invested in creating a great product. Our property has a lot to offer – including our spa, an outdoor and an indoor swimming pool, and no resort fee – and it can be a great asset any time of the year. It doesn't make for great marketing copy but the bottom line is we've been in business for 50+ years and we're going to take really good care of you while you're here.