Wrightwood, CA – It's not just bigger, snowier, more northerly ski resorts (read: Mammoth) that are opening this week. Southern California will get its own contender when Mountain High opens in Wrightwood tomorrow on a hefty early season dose of El Niño.
Cold temperatures and recent snowfall will allow Mountain High to open for the 2015-16 ski and snowboard season on Friday. Mountain High will open its Cruiser trail, where riders can test out their new tricks in the rail garden.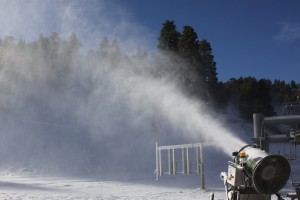 Mountain High's Coyote chairlift will operate from 8:30 a.m. to 4:00 p.m., taking skiers and snowboarders up to Cruiser. Freestyle skiers and snowboarders can access eight to 10 features including jumps, rails and funboxes.
Mountain High's season pass window will open at 7 a.m. and the Big Pines base lodge will be open at 8 a.m., serving hot coffee and grab 'n' go food items. Visitors are encouraged to arrive early, as available trails and terrain are limited. Day passes are available for $25 until the resort is open top to bottom, which is anticipated to happen by Saturday, November 14. Ski and snowboard rentals are available but no lessons will be taught until the necessary terrain is available.
"We are excited about the season and expect it to be epic with tons of El Niño snow," said Mountain High Chief Marketing Officer John McColly. "We wanted to open as soon as we could to get folks out on the trails and enjoying the long-awaited 2015-16 winter season."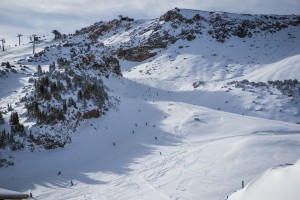 Those Los Angelenos willing to make the trek up US-395 will find Mammoth Mountain open top to bottom this weekend. After opening for the season this morning, Mammoth will be open from the summit tomorrow with the gondola providing access to Cornice Bowl.
"Easily the best conditions on opening day at Mammoth in the last five years, with more snow on the way next week," says resort spokesperson Tim LeRoy. "Thanks, El Niño!"