Vernon (BC), Canada – In what may be one of the more curious re-brandings in recent ski resort history, Silver Star in British Columbia is now…SilverStar.
SilverStar Mountain Resort has unveiled its new brand, symbolized by a new logo inspired by the mountain's four faces, the resort's colorful village, and the variety of year-round outdoor activities SilverStar offers.
"The new logo, developed in-house, was immediately embraced by the SilverStar team and community as truly capturing the essence of the SilverStar experience, especially the passion and enthusiasm for mountain culture and sport," said Anne Haight, the resort's sales and marketing director.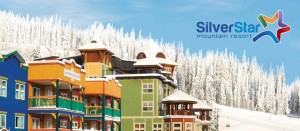 Designed to reflect the fun, playful and welcoming nature of the resort, the bottom of the star is a simplified mountain shape, better depicting the full mountain experience rather than simply a ski resort. The four points of the star represent the four faces to the mountain – Attridge, Vance Creek, Silver Woods and Putnam Creek.
The evolution of SilverStar's brand was driven by recent expansion into a wider variety of activities in winter and the growth of summer operations. The old logo connected exclusively with Silver Star as an alpine sports destination. While the majority of visitors still come to ski and snowboard, the SilverStar "My1Pass" offers a total of seven activities in one pass and day ticket.
"Our unique My1Pass provides access to not only alpine skiing, it also gives guests free entry to Nordic skiing, skating, tubing, snowshoeing and now even fat biking," said Haight. "It's a complete activity pass for winter family fun."
The color palette of the logo is reflected in the colors of the village and represents the different summer and winter activities, including purple for Tube Town and hiking, orange for snowshoeing and the bike park, green for fat biking and disc golf, red for cross-country skiing and cross-country biking, and blue for alpine sports and the "Gnome Roam," a  self-guided tour to find gnomes stashed in hidden locations around the village.
SilverStar has steadily been building amenities catering to popular summertime activities like hiking and mountain biking. Currently an International Mountain Bicycling Association (IMBA) Silver Level Ride Center, the resort expects future expansion of its cross-country trail network to lead to gold-level status.
Along with the introduction of the new logo, a re-designed website was launched and signage and promotional materials are being updated with the new look. Due to the size of the resort, the transition will be phased in over the coming seasons.