Taylors Falls, MN – Minnesota's Wild Mountain is keeping its 41-year tradition of early openings alive, when today it becomes the first ski area to open this season in the Midwestern U.S.
Thanks to an unseasonably warm autumn, this is nevertheless Wild Mountain's latest season opening since 2001, when it also opened on Nov. 20.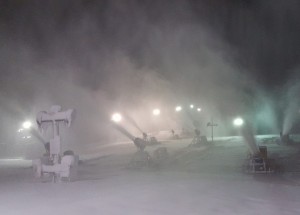 Although the precise time isn't yet known, Wild Mountain will open at some point today with its Front Stage run, a terrain park and a rope tow. A variety of rails and boxes will be placed on the hill for jibbers to enjoy.  Ski area officials hope to also have Expressway, an intermediate run, Chair 1 and Dandy, a beginner run open.
Lifts will spin until 9 p.m. tonight. Wild Mountain plans to have additional runs open for Saturday
and
Sunday from 10 a.m. to 5 p.m
.