Denver, CO – As the days grow shorter and the snow gets deeper, Colorado ski resorts are ready to ring in the winter holidays with lodging packages, fun family activities, and a variety of festive events. Featuring sleigh rides and ice skating, holiday fine dining on the mountain, skiing with Santa in his natural high alpine habitat, and New Year's fireworks galore, guests at Colorado's ski resorts will find special celebrations throughout the holidays across the state.
Arapahoe Basin

Santa at A-Basin, December 19
Skiers and snowboarders can come celebrate Christmas a few days early with the A-Basin family. Santa is rumored to be making an appearance from 10 a.m. to noon in the base area and will be taking some turns with his elf and anyone who wants to join him. The Summit Chorale Society will be spreading cheer throughout the Base Area Plaza and A-Frame with Christmas Carols.
New Year's Eve in the Mountains, December 31
Limited seating remains for this special installment of A-Basin's Moonlight Dinner Series. Guests can ring in 2016 with a gourmet dinner by Chef Christopher Rybak in a beautiful mountain setting featuring seafood appetizers and entrées of beef and lobster. Participants will celebrate New Year's Eve with New York at 10 p.m. MST with live music, a glass of champagne, party favors and a balloon drop. This is a lift-serviced only event; guests are not permitted to snowshoe before or after dinner. Cost is $100 plus tax and is inclusive of gratuity. Adult (13+).
Aspen Snowmass
The Twelve Days of Aspen, December 20-31
Downtown Aspen celebrates the 12 Days of Aspen with everything from free ice skating, tree lighting ceremonies, a visit with Santa and his live reindeer, holiday card making, cookie decorating, ugly sweater après, santa paws yappy hour for dogs, specialty Christmas dinners and more. The celebration finishes on New Year's Eve with two fireworks shows over Aspen Mountain amid prix fixe dinners and free flowing champagne parties.
New Year's at The Little Nell
Featuring bottomless Dom Perignon, an open bar, food stations replenished throughout the night, and three musical acts – Project M will play in Chair 9, while electric violinist Katarina Visnevska and DJ Valida perform together in the Dom Perignon Lounge at element 47. The party goes from 10 p.m. – 1:30 a.m. with a fireworks display over Aspen Mountain at midnight.
www.thelittlenell.com/ aspen-experience/events/nye-party
Santa's Magical Village at Snowmass
The North Pole comes to the Snowmass Village Mall and Base Village as Santa's Magical Village opens to hear the last minute requests of good girls and boys. Complimentary photos with Santa are offered December 21-24 from 2 p.m. to 4 p.m. Christmas Carolers will stroll through the Mall and Base Village singing Holiday favorites December 23-24. Children with last-minute Christmas wishes can make sure Santa hears all about them by dropping off a note in his personal "letters to Santa" mailbox located on the Snowmass Village Mall, from December 6-24.
Snowmass Torchlight Parade and New Year's Eve Fireworks
Participate in a Snowmass family favorite, the free Torchlight Parade with fireworks on New Year's Eve, Thursday, December 31. Anyone eight years or older is invited to be part of the trail of lights down the mountain. The free Torchlight Parade starts at 5:15 p.m. and the New Year's Eve Fireworks on Fanny Hill start at 10 p.m.
Beaver Creek
White carpet. White glove. White snow.
Beaver Creek's White Glove Collection covers the spectrum of luxury and exclusivity on the slopes this holiday season. It all begins with the White Carpet Club, providing an exclusive, private retreat during a busy time of year for guests staying within Beaver Creek. With White Glove First Tracks, access the mountain one hour before the general public and ski fresh corduroy or powder. Then, enjoy a delectable hot breakfast, specially prepared for you at the exclusive Allie's Cabin Dec. 27, 29, 31 and Jan. 2.
Breckenridge
Holiday First Tracks
While it feels like Christmas from December through January in Breckenridge, Colorado, a real holiday treat is the one-of-a-kind First Tracks Friday experience starting on Dec. 18. Guests staying in select Breck lodging properties – Mountain Thunder Lodge, One Ski Hill Place, Crystal Peak Lodge, The DoubleTree by Hilton Breckenridge, The Village Hotel or The Village at Breckenridge – are offered a special opportunity to enjoy the mountain one hour before the lifts open to the public. Guests must have a valid lift ticket or season pass and be intermediate level skiers or snowboarders or above. Holiday First Tracks will be offered each Friday from Dec. 18 through Jan. 8.
Copper Mountain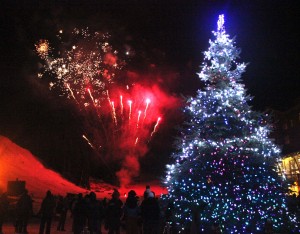 Christmas at Copper, December 24
Christmas Eve brings along yet another visit from Santa himself, along with a children's Glowstick Pageant and a Torchlight Parade down the Main Vein trail. This is a chance for guests to meet Santa and enjoy holiday festivities in Burning Stones Plaza. Before you head home to set out the milk and cookies for old St. Nick, enjoy a festive fireworks display over the mountain.
New Year's Eve Celebration, December 31
Say goodbye to 2015 and hello to 2016 with the USASA Rail Jam, a children's Glowstick Pageant, Torchlight Parade and – of course – a mountain-side fireworks display. When the outdoor activities are over, guests can put the little ones to bed and head indoors to their favorite Copper Mountain bar/restaurant for drink specials, live music and other festivities all night long.
New this year, Copper will be offering an exclusive on-hill Moonlight Dinner. Guests can take the American Eagle chairlift up to Solitude Station and enjoy a fine dining experience. Post-dinner board or ski down the mountain by moonlight and gather for a celebratory cocktail in Center Village.
Crested Butte
Grandest Christmas Package
Crested Butte Mountain Resort (CBMR)'s Grandest Christmas package features four nights of lodging at The Grand Lodge and three days of skiing or riding at CBMR, including passes to the resort's Adventure Park, for a family of four (two adults and two kids 17 and under) for $1049, plus tax and fees. Dazzling twinkle lights line Elk Avenue, ice sculptures adorn the base area, and crowds gather for the Torchlight Parade as skiers wind down the mountain on Christmas Eve. The Grand Lodge is located just 200 yards from the chairlift, making first tracks on Christmas morning a definite possibility.
Light Up the Night, December 11-12
Light Up the Night weekend kicks off the 12 Days of Cheer in town on Friday, December 11. The parade will start at 5 p.m. and culminate with a tree lighting. The fun continues on Saturday, December 12 in the Lodge at Mountaineer Square for some holiday cheer. The S'mores station starts at 5 p.m. and the tree lighting happens at 5:30 p.m., followed by photos with Santa.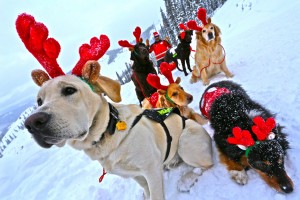 Santa Day, December 12
Crested Butte Mountain Resort is sponsoring a "Santa Ski and Crawl" in hopes of breaking the Guinness Book of World Records for the most number of skiers in full Santa costumes. Santa crawlers need to be decked out in a full Santa suit in order to participate. CBMR is offering $27 lift tickets for those in full costume and lodging deals for participants when booking with Crested Butte Vacations (888-879-7317). After the group ski, a pub crawl will start on the mountain and finish at various watering holes in downtown Crested Butte.
Christmas Eve at Crested Butte Mountain Resort, December 24
Resort guests can watch Santa come down the mountain in a sleigh pulled by a snowcat and then stay to watch the Crested Butte Ski and Ride School perform their famous torchlight parade down the front side of the mountain.
Christmas Dinner at Uley's Cabin, December 25
Uley's Cabin is an epicurean adventure in Crested Butte and is hosting a special Christmas meal to bring good cheer. Guests will board a sleigh ride to a cabin nestled in the woods, where a four-course meal and a roaring fire await. With a menu of roasted chestnut soup, winter green salad and a choice of Colorado venison, beef tenderloin or a roasted half duckling and finishing with a house made Scottish toffee cake, the evening will be one to remember. Reservations can be made at www.skicb.com/uleys.
Eldora
Hit the Slopes with Santa at Eldora
Skiers and snowboarders can head on up to Eldora Christmas Eve and Christmas Day to enjoy fun on the trails with Mr. and Mrs. Claus. Santa will also have treats for all the good boys and girls and Eldora will be hosting its 2nd Annual Ugly Sweater and Elf Costume Contest. Guests who bring their best Ugly Sweater or Elf Costume on Christmas Eve Day have a chance at winning a Season Pass.
Keystone
Santa Claus is Coming to Keystone
Keystone continues to redefine the family resort experience with Kidtopia, offering a variety of daily family activities and programming beginning Thanksgiving weekend. In addition, the big guy himself will be on-hand beginning Saturday, Nov. 28 during the first of Keystone's Kidtopia Saturday Village Parades, and making appearances through Christmas Eve before embarking on his prior obligations. From photo opportunities and story time to parades and ice skating, Santa Claus will be out and about in Keystone throughout December. Also, returning for a fourth season, Keystone's Kids Ski Free program is easy on the wallet and easy on the rules. Available every day for the duration of the season, including weekends and holidays, families need only to book two or more nights of lodging through Keystone Resort for any child 12 and younger to ski for free.
Loveland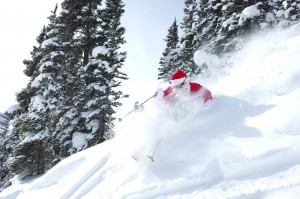 Ski and Ride Loveland with Santa
Skiers and snowboarders who venture to Loveland around Christmastime can find themselves riding the lifts and slopes with Santa and Mrs. Claus.
Monarch
Santa Skis (or Rides) Monarch on Christmas Eve
Parents can bring the kids up to Monarch on Christmas Eve to meet Santa and spend a day on the mountain.
Torchlight Parade and Fireworks
Join Monarch for its annual Torchlight Parade & Firework show, with family-friendly festivities from 4 p.m. to dark and the torchlight parade starting at dusk.
Powderhorn
New Year's Eve Torchlight and Fireworks
Powderhorn Mountain Resort will be hosting its annual Torchlight Parade and Fireworks on New Year's Eve. This is a free event for anyone to come and watch. The resort will have live music and drink specials all evening. In addition, guests can put their kids in Powderhorn's Team Yeti Christmas Camp from December 28-31. All participants will finish the week with an awards party and participating in the New Year's Eve Torchlight Parade. The cost is $149, and does not include rentals or lift tickets.
Purgatory Resort
Celebrate the Holidays with Friends and Family at Purgatory Resort in Durango
Santa and Mrs. Claus will visit the ski beach, arriving via horse-drawn sleigh so the reindeer can rest up, on Sunday, December 20. Guests will enjoy a special Christmas dinner buffet, live music, holiday kids' movies, après ski hot cocoa and s'mores, Kids Night Out at the Den Childcare Center, and more throughout the holiday week.
New Year's Eve Torchlight Parade and Fireworks
Purgatory Resort will usher in the New Year with a Torchlight Parade and Fireworks Display, as well as a celebration for kids at 10 p.m. with party favors, and a celebration at midnight for adults with live music and a New Year's Eve toast.
Resort guests can enjoy horse-drawn sleigh rides, alpenglow snowshoe tours with spectacular views, dog sledding, and more fun on the snow.
Ski Granby Ranch 
Winter Wonderland, December 24 – January 4
Granby Ranch is hosting Winter Wonderland December 24 through January 4. On Christmas Eve guests can ride the slopes with Santa from 9 a.m.-12 p.m. or visit him at the base from 12:45-2:45 p.m. Following a day of skiing and snowboarding, visitors to Granby Ranch can celebrate Christmas Eve with a service at the Base Lodge at 5 p.m. From December 26-30, guests can extend their day with night skiing, smores by the fire pit, Elf Treasure Hunts, and fun gondola photo booth pictures.
New Year's Eve Festivities, December 31
Ski Granby Ranch guests can ring in the New Year at a family dance party from 4-9:30 p.m. A glow stick parade, torchlight parade, and fireworks begin at 6 p.m.
Sunlight
Demo Days with Santa, December 20-21
Sunlight Mountain Resort hosts its annual Demo Days with Santa winter event on December 20-21. Guests have the opportunity to try new skis and boards for free while the kids visit with Santa.
Steamboat
Torchlight Parades and Fireworks, December 31
To ring in the New Year, the Steamboat Snowsports School treats guests to spectacular on-snow parades down the mountain lit only by torches. In conjunction with the torchlight parades, a fireworks display will illuminate the sky, providing a perfect ending to the evening.
Ragnar's Holiday Sleighride Dinners, December 24-30
When the sun sets, the adventure begins with a nighttime gondola ride to a snowcat-driven sleigh ride under the stars and across the mountain to a spectacular Scandinavian five-course dinner in this secluded mountain retreat. The sleigh ride lasts 25 minutes.
Steamboat Holiday Festival, December 20
Resort guests can celebrate the holiday season at gondola square, featuring Santa riding down the slopes on horseback. Guests can participate in the stocking scramble and collect free holiday treats at surrounding stores and restaurants. Additional festivities include a cookie decorating and a special holiday concert. The party continues after dark with a torch light parade and fireworks followed by night skiing.
Christmas Brunch / New Year's Eve Dinner at Hazie's
Guests at Steamboat can celebrate on top of the mountain and enjoy a holiday brunch at Hazie's Restaurant, featuring Hazie's Eggs Benedict, Bourbon French Toast, Thick Cut Maple Bacon, Hand Carved Meats, Salads of the Summit, Soups, Fruits and Cheeses and a dessert display including their famous Chocolate Fountain.
In addition, on December 31 Hazie's will be hosting a mountain top six course dining experience with complimentary admission to the Korbel New Years Eve Party.
Telluride
Mountain Village Holiday Prelude
Mountain Village is being transformed into the North Pole for this year's Holiday Prelude celebration during the weekend of December 11 – 13. The Mountain Village Holiday Prelude magic starts at the Oak Street gondola station where the free gondola is transformed into a Trip to the North Pole on Friday, December 11 and Saturday, December 12 from 3 – 6 p.m. Take in the decorations and lights galore as elves send guests on their way to visit Santa in his workshop in Heritage Plaza.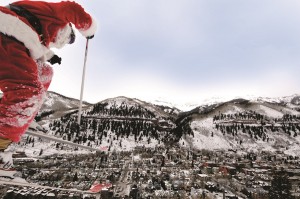 Other activities taking place in Mountain Village include a free train ride throughout Mountain Village's festival of lights, and the North Pole on Ice professional skating performance on the Mountain Village Ice Rink outside of the Madeline Hotel and Residences. On Saturday (December 12), there will be free sledding and skating, and on Saturday night, families can participate in the Hotel Madeline Annual Ugly Holiday Sweater Skating Party. To conclude the weekend of holiday fun, the Palmyra Restaurant at the Peaks will be hosting a pajama breakfast with Santa.
Torchlight Parade
On Christmas Eve and New Year's Eve there will be torchlight skiing parades to celebrate the season.
Vail
Vail Holidaze
The festive holiday mood at Vail Mountain is highlighted by Vail Holidaze on Dec. 19, 20 and 31, featuring the annual Tree Lighting Ceremony, followed by the Vail Lantern Walk through Vail Village. Ring in the New Year Vail style with the New Year's Eve Torchlight Parade, when ski instructors and locals form a glowing train as they ski down Golden Peak, followed by a fireworks extravaganza. Vail is offering an early gift to guests with special savings on vacation deals during the holidays, including savings of up to 25 percent.
Winter Park Resort
Torchlight Parade and Fireworks Show, December 24
A Christmas Eve tradition since 1978, the slopes of Winter Park will be aglow with the annual Torchlight Parade and fireworks show. The Christmas Eve Torchlight Parade is one of the most beloved Winter Park traditions. The event begins with Christmas carols around the bonfire at the base of Winter Park Resort, next to the Zephyr Lift at 4 p.m. At 5:30 p.m., a procession of torch-bearing skiers and riders begin their way down Lower Hughes trail, followed by Santa Claus and his merry helpers. A spectacular fireworks display and snowcats adorned with Christmas colors light up the slopes in a Christmas tree formation to conclude the festivities.
Immediately following the show at 6 p.m., visitors are welcome to attend Christmas Eve interdenominational services located in the lower level of the Balcony House and Catholic Church services located in West Portal Level 4. Services are scheduled to last about an hour.
Santa can also be found both in the Village as well as on the slopes in the days leading up to Christmas Eve.