Aspen, CO – On a crushing day Friday for the U.S. Ski Team, Lara Gut of Switzerland bested the world's top female skiers, completing the technical course down Aspen Mountain with a combined time of 2:02.51 to win the giant slalom at the 2015 Audi FIS Ski World Cup at the Nature Valley Aspen Winternational.
Eva-Maria Brem of Austria, second place finisher and Federica Brignone of Italy, third place finisher were also both on the podium in the 2014 giant slalom at the Aspen Winternational in first and third place, respectively.
Snow began to fall in Aspen at the start of the race's second run. After leading the first run, American race favorite Mikaela Shiffrin looked poised to take the first American victory in Aspen since Tamara McKinney won the same race in 1984. Gut sat in third place, nearly a full second back of Shiffrin's time.
Gut took to the course and executed a fearless and aggressive second run, coming through the finish with a slim 0.10-second lead over Brem. Shiffrin likewise attacked the course in her second run. Her lead was cut to 0.68 seconds at the final interval, but she appeared destined for the win by a respectable margin with the finish line in sight and just a few gates across the flat left to navigate.
Shiffrin, however, never made it across the finish line on her run. Getting caught going too straight on the final gates and trapped with her weight too far inside, her feet were swept out from beneath her as she slid downhill on her side. Shiffrin's crash just before the finish effectively handed the victory to Gut.
"It's part of the game, one day you win and one day you crash," Gut said of Shiffrin's fall.
"I felt kind of scrappy that run. I definitely didn't feel great, but I was fighting really hard and I'm proud of that. Two gates from the finish, I was like 'Oh my God, I can't believe I made it this far!'" said Shiffrin. "You should never, ever think that because immediately something bad will happen."
However, the always-positive Shiffrin was still confident about future GS races. "As heartbreaking as it is to know that my times were so fast and that I was so close to the finish, it's a confidence-booster," she said. "It's not like I skied conservatively and lost two seconds and lost the win—I've done that before and that's really hard to get over. It was a stupid mistake and I know I'm skiing well and when I bring out my best skiing. It was really good practice today."
While Lindsey Vonn was seen as another contender for the GS win in Aspen on her return to the World Cup circuit, her outside ski popped off part way down the course on the first run. "My ski came off! I don't know. It wasn't even really bumpy, so I'm kind of perplexed on how it actually happened. It's never happened to me in a race before, so to have it happen in Aspen is definitely disappointing," said Vonn. "Next week is Lake Louise, so I'm just going to move on and focus on that."
The only other American competing was Megan McJames, of Park City, Utah, who did not qualify for a second run.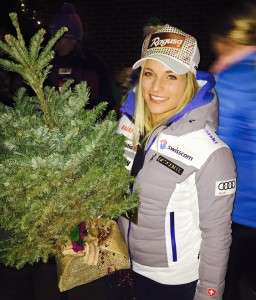 Gut has finished just shy of the podium in past years and was visibly excited to be on the podium this year after coming off a frustrating season last year. "It's a tough course; you need to push hard from the top to the finish." She also notes, "It finally feels like the pieces of the puzzle are coming together for me."
The Nature Valley Aspen Winternational weekend continues today and Sunday with a ladies' slalom races on each day. Today's final run will be broadcast live in HD on NBCSC at 1:30 p.m. MST and on Sunday, the slalom final run will be broadcast live in HD on NBC at 1 p.m. MST.
OFFICIAL RESULTS
FIS Alpine Ski World Cup
Aspen Winternational – Aspen, Colo. – Nov. 27, 2015
Women's Giant Slalom
| | | | | | |
| --- | --- | --- | --- | --- | --- |
| Rank | Name | Country | Run 1 | Run 2 | Total |
|  1 | GUT Lara | SUI |  1:00.00 |  1:02.51 |  2:02.51 |
|  2 | BREM Eva-Maria | AUT |  1:00.41 |  1:02.20 |  2:02.61 |
|  3 | BRIGNONE Federica | ITA |  59.15 |  1:03.70 |  2:02.85 |
|  4 | MOELGG Manuela | ITA |  1:00.42 |  1:03.03 |  2:03.45 |
|  5 | WORLEY Tessa | FRA |  1:00.04 |  1:03.45 |  2:03.49 |
|  6 | LOESETH Nina | NOR |  1:01.05 |  1:02.84 |  2:03.89 |
|  7 | REBENSBURG Viktoria | GER |  1:01.03 |  1:03.12 |  2:04.15 |
|  8 | HECTOR Sara | SWE |  1:00.11 |  1:04.20 |  2:04.31 |
|  9 | HANSDOTTER Frida | SWE |  1:00.86 |  1:03.78 |  2:04.64 |
|  10 | BAUD MUGNIER Adeline | FRA |  1:01.71 |  1:02.98 |  2:04.69 |