Ruka, Finland – High winds continued on Sunday in Ruka, forcing officials to cancel the remaining event of the FIS Nordic Combined World Cup opener in Ruka, just as it had Saturday for ski jumping. The tour now heads across Scandinavia to the Olympic venue of Lillehammer to try it again next weekend. There was no immediate word on rescheduling.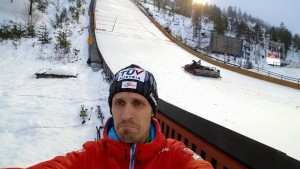 "For the first time, we had to cancel both of our opening events here in Ruka," said FIS Nordic Combined Tour Director Lasse Ottesen. "The wind conditions this weekend have been too strong and in the line of safety for our athletes, we have had no chance to complete any jumps since Friday. So the World Cup in Lillehammer, Norway, next weekend will be our opening event of the 2015-16 season and we are very much looking forward to finally get underway."
The USA had four Nordic Combined athletes in Ruka including brothers Bryan and Taylor Fletcher, Adam Loomis and Jasper Good, who was to make his World Cup debut.