The Best of the Rest
While the big four nations of Austria, France, Italy and Switzerland naturally dominate our list of the best Alpine resorts, there are plenty of great ski areas and regions throughout the rest of Europe. The following six destinations offer a diverse alternative to the traditional Western European getaways, and blend excellent value for money with top class skiing facilities.
Åre, Sweden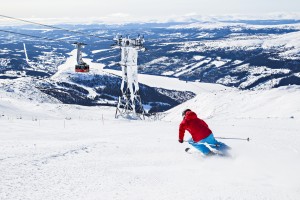 Regarded as the finest ski resort in Sweden, Åre offers ample Scandinavian charm mixed with a host of challenging courses to test skiers of all standards. With around 100 km of pistes and more than double that in off-piste trails, the resort is a haven for Scandinavian and British visitors in particular. It hosts World Cup events and, thanks to the powder snow which lasts until May and the scenic delights of the magnificent Lake Åresjön, it is a top class destination.
There are 46 lifts servicing the region, with many of the most exciting black runs accessed at the top of 1,420 meter Mount Åreskutan. Low visibility can enhance the thrills somewhat, though beginners and juniors will find a good assortment of gentler slopes a short hop away in Duved. The resort attracts a huge number of freeriders and snowboarders, who revel in the deep off-piste snow trails, while the resort benefits from stylish Swedish hotels and restaurants. It's not a cheap destination, but it is family friendly, safe, and provides ample challenges for the more seasoned skier.
Cairngorm, Scotland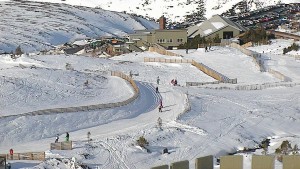 Aviemore and the mountains above have long been the UK's premier destination for winter sports lovers. recent upgrades have transformed Cairngorm and its surroundings into a world class ski area, with a challenging array of intermediate level runs. With 12 lifts, a funicular and train serving the mountain, access is rapid and straightforward, while the panoramic views showcase the beautiful Scottish terrain.
Cairngorm also boasts the UK's first halfpipe, meaning that snowboarders are very well cared for, while a single thrilling black run offers experts a good challenge. There's a good fun park which suits novices and those looking for off-piste adventure, while the attractions of Scotland's highest restaurant, shops and bar add to the resorts credentials. For British skiers, this is an accessible destination off the main A9 route with enough to satisfy anyone in search of immediate thrills.
Geilo, Norway
Norway's oldest ski resort was built in 1920, and can be reached via the mainline train service that links Bergen and Oslo. It is one of the most family oriented destinations on our list, with a superb ambience, cheery locals and uncrowded pistes. It is a perfect base for beginners and those seeking a relaxed ski amidst quiet conditions, but there remain enough opportunities on the slopes for the more experienced, including several black runs and mogul fields.
Geilo is situated at 800 meters and has very good snow coverage. The resorts boasts restaurants, shops and a wealth of off-piste activities to keep the whole family busy. Visitors can enjoy sleigh rides, toboggans, ice skating and many other fun pursuits to complement the skiing and riding. There is a reputed 220 kilometers of off-piste cross country routes threading the region, making it a haven for those who enjoy this Nordic pursuit. Waiting times across the resort are minimal, and the friendly instructors, guides and residents will guarantee a joyous holiday in all seasons.
Sierra Nevada, Spain
It may seem an unusual choice as a ski destination, located just half an hour's drive from Spain's southern coast, but the Sierra Nevada mountains provide a terrific contrast to the beach lifestyle down below. More than 85 km of pistes provide entertainment and challenges at a high altitude (2,100 meters), with excellent snow coverage throughout December to April, with a majority of slopes best suited to intermediate level skiers.
The resort itself comprises six main areas, with 30 gondolas and chairlifts ferrying visitors rapidly to the best runs, which peak at close to 3,300 meters. Nine black runs and a smattering of nursery slopes complement 78 blue and red runs across the Sierra Nevada. With the charms of Grenada just 45 minutes away, this is a great spot to combine a sun and winter holiday, from the terrific beaches of the coast to the après-ski and facilities both in the mountain and at the shore.
Soldeu, Andorra
Andorra is another unusual choice for a ski holiday, but the sprawling, mainly north-facing, 210 km of pistes at Soldeu offer plenty to occupy all levels of visitor. A good snow record complements the wide choice of runs, with newcomers and intermediates particularly well served on the slopes at Espiolets. Instruction and training within the resort is excellent, and a Ski Andorra pass also grants access to many other resorts and slopes in the vicinity, including Pas de la Casa and El Tarter.
Soldeu is not the most charming of village resorts, and the wider pass is fairly expensive, but for those seeking a challenge away from the main European centers, the ski quality and opportunities are very good, with long runs across a selection of gentle slopes. It is a good region for the lower level skier, and UK visitors can even take advantage of a British-run ski center.
Ylläs, Finland
An hour from Kittilä airport, this is one of Finland's friendliest resorts. It is pitched perfectly for the novice skier, with gentle slopes, a great terrain park and many family-oriented activities off-piste including reindeer sleigh rides and sledding. However, the experienced visitors will benefit from a fantastic selection of snowboarding facilities, six black runs and more than 50 intermediate level courses that never become too crowded, even in peak months.
The late season from March onwards is the best time to visit Ylläs. Its Northern location means that the winter months suffer from prolonged darkness. Accommodation is found lower down the slopes, and is spacious, modern and affordable. The resort also provides more than 50 kilometers of off-piste trails which boarders and cross-country skiers will thoroughly enjoy. As with many Scandinavian resorts, Ylläs is very friendly and safe, and an ideal place to bring the family for a short break.
Conclusions
The 51 resorts highlighted in this article provide a wide diversity of winter destinations, from the glitz and glamour of Switzerland's premier regions to the friendly charms of Italy and Scandinavia. While experienced travelers will no doubt have their own favorites, each resort on the list provides quality accommodation and facilities, excellent skiing and enough activities off-piste to keep you coming back for more.
——
This article was originally published at www.nationwidehireuk.co.uk/blog/51-best-ski-snowboarding-holidays-in-europe, and is reprinted here at First Tracks!! Online with the permission of the author.