North Conway, NH – Just before Christmas, Cranmore Mountain Resort in North Conway that sales for the first building of its Kearsarge Brook Condominiums at Cranmore development would recommence now that all necessary permits and approvals are in place.
This project is being funded by Belmont Capital of Cambridge Mass., an affiliate of Joe O'Donnell who, with Brian and Tyler Fairbank, owns Cranmore Mountain Resort, along with Jiminy Peak Mountain Resort in Massachusetts. O'Donnell also owns Bromley Mountain Resort in Vermont, managed by The Fairbank Group, a management company owned by the Fairbanks.
"It's an honor to lead a resort with such rich history into the future," commented O'Donnell. "With its Kearsarge Brook project, Cranmore will be one of the first resorts in Maine or New Hampshire to construct a progressive mountain living community in the heart of one of America's most recognized ski towns. After decades of successful resort development and business ventures with the Fairbanks, I have every confidence that the Cranmore project will be well planned, well financed and wildly successful."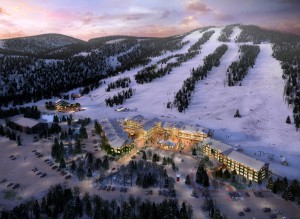 Phase one of the Cranmore Master Plan calls for two strictly residential condominium buildings to be built in two stages. The first building will consist of 18 residences and the second will be a 19-residence building, all conveniently located at the base of Cranmore's South Slope for easy ski-in, ski-out access and proximity to spring, summer and fall activities and attractions. Residences will include two and three bedrooms, and range from approximately 1,300 to 1,800 square feet.
"A year and a half ago we had to freeze the Kearsarge Brook Condominiums at Cranmore project based on land release issues and some permitting delays," commented Brian Fairbank, Chairman of The Fairbank Group. "Recently we were able to resolve all outstanding issues and utilize our long-standing relationship with Belmont Capital to restart the condominium development."
Eighteen units in building one will be the first offered for sale. Cranmore already has signed reservations for approximately one-third of the residences but there are still residences available in building one. Since the development is now registered with the New Hampshire Attorney General's Office, buyers will be signing purchase and sale agreements and making a deposit to reserve units.
"Offering base area condominiums to our guests is unique for our region," commented Cranmore President and GM Ben Wilcox. "Mixing new ski facilities with condominiums has been a successful model at resorts like Jiminy Peak in Massachusetts; Stratton Mountain in Vermont; and Mount Tremblant in Canada."
Construction could begin as early as this spring if purchase and sales contracts for 14 of 18 residences can be secured by March 1, 2016. If the required number of contracts is met by March 1, building one is expected to be completed by January 2017. Completion dates are subject to change based on achieving the purchase and sale agreement quota. Glen Builders, based in Bartlett, N.H. is the selected contractor for the project.
The Kearsarge Brook Condominiums are part of a multi-year Cranmore Master Development Plan that will eventually add a total of 106 new condominium residences to the base of Cranmore. Residences in buildings three, four, five and six will sit above new planned ski facilities. Plans call for all of Cranmore's existing facilities with the exception of the Cranmore Ticket Office building, renovated in 2010, the historic summit Meister Hut, and the Artist Falls Lodge, home to Cranmore Fitness to be replaced, including a restaurant, cafeteria, seating, locker rooms, restrooms, changing areas, rental shop, ski retail shop, snow sports instruction registration and other skier service areas. Two-, three- and four-bedroom condominiums will be built on the second and third floors of buildings three, four, five and six.
"The proposed Cranmore Master Development Plan is the next chapter of improvements that will put Cranmore on the map as one of New England's quintessential resorts," comments Tyler Fairbank, CEO of The Fairbank Group. "Cranmore has become a year-round destination that will continue to infuse dollars into the Mount Washington Valley's local economy."