Santa Caterina, Italy – The men's and women's tech teams are each taking on an Audi FIS Ski World Cup slalom race, relocated from Zagreb, Croatia to Santa Caterina, Italy due to a combination of a lack of snow and unusually warm temperatures—a harsh reality much of Europe has faced so far this winter. But Santa Caterina is a lot whiter than it was one week ago for the men's downhill.
On the women's side, a strong and consistent Resi Stiegler, of Jackson, Wyo., looks to break into the top 10 in today's race. Last week in her father's hometown of Lienz, Stiegler participated in her first bib draw in eight years. Of the four World Cup slalom races this year, Stiegler has finished top 20, including a top 10 on home soil in Aspen—the best comeback post-injury finish she's had in her career. But Stiegler's hungry for more. Her sights are set on the top 10.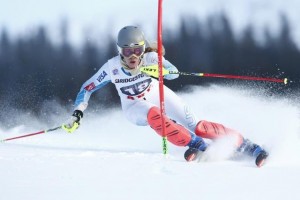 Speaking of her recent return to the top 15, Stiegler said last week, "That was a huge accomplishment for me. That's obviously not a season goal for me, but it's something I've been working towards. You can kind of pat yourself on the back. I need to be getting in the top 10s to be getting what I want. The podium is my goal, but I'm happy with the top 10."
The men are fresh off a solid training block at Hinterreit, Austria, where they've had good conditions to prep for Santa Caterina. Former Dartmouth NCAA athlete David Chodounsky, of Crested Butte, Colo., currently sits in an impressive third place in the overall slalom standings. After a career-best fourth-place finish at Val d'Isere and a solid ninth-place finish at Madonna di Campiglio, paired with some impressive giant slalom skiing, Chodounsky is confident heading into Wednesday's men's slalom in Santa Caterina. He'll seek to add another solid result at this first ever Santa Caterina-hosted men's slalom World Cup race.
Today also marks the one-year anniversary of the deaths of named U.S. Ski Team members Ronnie Berlack (Franconia, N.H.) and Bryce Astle (Sandy, Utah), who were killed in an avalanche in Austria. The U.S. Ski and Snowboard Association has been working with the The Avalanche Project to create awareness about the importance of avalanche education. This has been a joint effort of the American Institute for Avalanche Research and Education (AIARE) and regional organizations.