Greensboro, NC – Smart phones, tablets, 4K 3D televisions — we live in a technological world. Over the past decade or two, technical fabrics have even revolutionized skiwear, and that new Gore-Tex shell you're sporting this winter already has little in common with your father's 1980s-era Columbia Bugaboo.
One company, though, is bringing technology to skiwear on a whole new level. 38-year-old Tom Nolan had a vision in 2012 when his private equity-backed firm Prospect Brands bought Gerbing, best known for supplying electrically heated garments to motorcyclists the world over: he wanted to marry technology and ski fashion.
That vision has been born in Gyde Supply, a new brand of electrically heated clothing aimed at skiers and riders (as well as golfers, ironically, but that's another story altogether). The company makes jackets, vests, pants, socks and gloves, all heated by Gyde Supply's patented Microwire technology.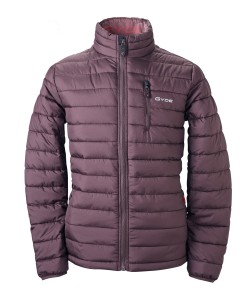 "When he came on, Tom Nolan wanted to pair function with design," explains Kayla Stevens, Gyde Supply's Director of Development & Technology. "Gyde is the next evolution of Gerbing. Moving forward, Gyde will be the name out in front but it's the same company. What we tried to do this year is combine not just the technology, but also the style, so that you've got a jacket that looks like your North Face and all of the other hip jackets in style, but have this feature that these other jackets don't have."
A feature that they don't have, indeed! Gyde's Microwires contain hundreds of conducting steel filaments a quarter the thickness of a human hair, all encased in a waterproof Teflon coating to ensure durability. They're connected to a tiny 7-volt battery pack to provide heat on demand. We've had the opportunity to test Gyde Supply's Calor Jacket ($349.99) and S4 Gloves ($279.99) over the past several weeks as the mercury dipped below zero in the Wasatch Mountains of northern Utah. In all honesty, we've come away impressed.
We sampled a pair of electrically heated Gerbing gloves a number of years ago, but the new Gyde Supply S4 Gloves represent a quantum leap forward. Gone is the drab, black styling that was prevalent throughout the old Gerbing line. More importantly, however, instead of a heat panel over the back of the palm to encourage blood flow to the fingers (much as a cheap chemical heat pack would do), the S4 Gloves have Gyde's Microwires sewn all the way out to the fingertips to quickly rewarm frozen fingers. The battery pack stores in a pocket above each wrist to power the gloves, and three heat settings provide a battery life ranging from two hours to all day, depending on heat intensity. Gyde used name-brand Primaloft insulation in this softshell fabric glove, and an Aquatex membrane provides waterproof breathability. A goggle chamois is sewn into the thumb, and the index finger on each glove is touchscreen-compatible, the importance of which will become readily apparent to the reader in a paragraph or two. An external switch controls the heat output, and can be easily operated with gloves on.
Whenever our testers' fingertips would get cold, a quick two-minute shot of heat while riding the chair solved the problem post haste. About our only beef with the S4 is that we would have preferred to have seen the palm reinforcement span the entire palm rather than just a small portion of it, but that's a small quibble with an otherwise stylish and functional electrically heated glove.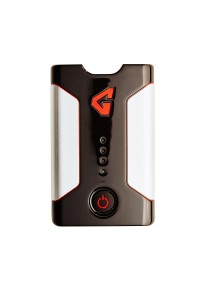 The Calor Jacket utilizes the exact same battery pack that's housed in each S4 glove, ensuring that the same charger can be used to recharge the jacket's battery if need be. Four LED indicators confirm remaining battery life, but the battery needs to be turned on prior to insertion into the glove. We would have preferred to see an industry standard fitting like microUSB for a charging port, but we otherwise have no complaints about these 2600 mAh Li-Ion batteries that Gyde is using.
In the Calor Jacket, this battery pack sits in the left slash pocket. Therein, however, lies the conundrum. The Calor is a synthetically insulated puffy best worn while skiing as a mid-layer beneath a shell. In that scenario, it's impossible to access the battery pack without fully unzipping the shell, something that most people would be reluctant to do on a cold day. Furthermore, Gyde Supply opted to produce the Calor without the external temperature control found on their S4 gloves. "It was a design team decision," Stevens explains. "Number one it's aesthetics; number two, it's cost."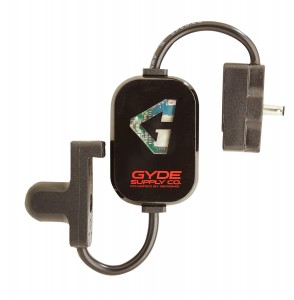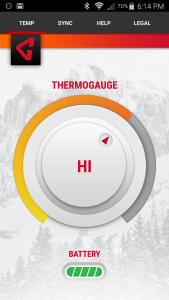 Gyde therefore came up with a unique solution. They've made an optional Bluetooth adapter available ($49.99) to control the jacket with a free smartphone app, further adding to the jacket's "gee whiz!" factor. The adapter simply plugs in line between the battery and the jacket. Unlike the four heat settings selectable right on the battery pack, the smartphone app provides a temperature dial, allowing the user to select any specific temperature between 100 and 135ºF. Battery charge status is provided as well. We found the connection between the battery and the Bluetooth controller to be less than secure, but Stevens indicates that the Bluetooth will be built into the jacket beginning next year, and that upgrade will allow the wearer to use the app like a thermostat to set the desired temperature and forget about it.
Heat is delivered to the Calor jacket via a large panel in the upper back, two smaller panels in the chest, and around the collar. Unlike some other electrically heated garments that we've tried in the past, the heat is noticeable in the Calor. You can literally feel it. If that chairlift ride gets a little chilly, just reach for your phone and crank up the heat.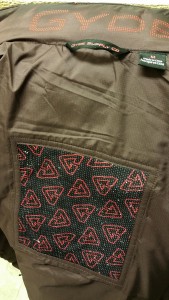 As for its remaining feature set, the Calor Jacket claims four pockets (one exterior chest, one interior chest and two slash pockets), an adjustable hem to keep cold air out, and a pocket at the top of the main zipper to keep the user's neck from getting pinched when the zipper is fully closed. Right now the Calor uses an unbranded synthetic insulation which we found to shed a bit through the seams, but Stevens indicates that beginning next year Gyde will utilized branded Primaloft insulation in the Calor Jacket as well.
Not everyone needs heated apparel for skiing, and Gyde Supply's products certainly come at a financial premium, but there's no discounting the interest that passers-by showed in the garments while we were testing them at Alta. If you're habitually cold during winter, Gyde Supply's apparel is worthy of careful consideration.