Tannersville, PA – After two years' construction time and a $163 million budget, Camelback's new Aquatopia waterpark (the largest ski-in/ski-out structure of its kind in the U.S.) and 453-suite lodge were successfully put through their paces over the recent sold-out MLK holiday weekend – crowning the 52-year-old resort's transition from a daytrip visit into an overnight, year-round destination.
Located in Pennsylvania's Pocono Mountains ten miles west of the Delaware Water Gap and just a few minutes from Interstate 80, Camelback now allows skiing and snowboarding families to complement their favorite winter sport with a variety of indoor and outdoor adventure options including snowtubing, ziplines, a mountain coaster, Segway tours, and rope courses, change into their swimsuits for a multitude of cutting-edge water attractions, and then sleep it off in style in a comfortable, well-appointed hotel with three sit-down restaurants and 24 different suite, loft, and condo configurations.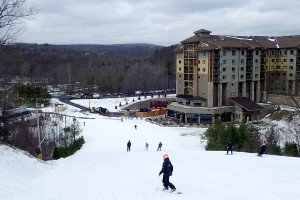 Camelback's new market differentiator is that it's a completely reliable winter destination, whether or not Mother Nature is cooperating in the snow department. In fact, if natural conditions are sub-par (as has been the case across the entire northeastern U.S. for much of this winter), the plethora of entertainment options make it even more attractive for a gargantuan market encompassing the New York City and Philadelphia metropolitan regions, both of which are within 90 minutes of the resort.
Taking a page from Utah's Deer Valley – when you drive up to the lodge, baggage valets not only transfer your suitcases to a waiting hotel room, they also bring your skis, poles, and snowboards to a storage area just steps from the Stevenson high-speed chairlift; thus, no need to schlep your equipment through the hotel. Even if you arrive late in the afternoon, 100% of the ski area (all of which is covered by snowmaking) is lit until 9 pm, which means that you can get in several hours of arrival-day turns before diverting your attention to the myriad other attractions. Even though natural precipitation had been scant and temperatures abnormally warm before our arrival, Camelback's boundary-to-boundary snowmaking was able to open more than two-thirds of the trails and conditions were nice and soft.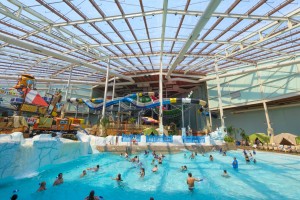 Of course, the centerpiece of the Lodge is Aquatopia, which last September was voted the country's #1 indoor waterpark by USA Today readers. Under a 1.5-acre transparent roof, the largest such install in North America, this 125,000 square-foot, multi-level H20 palace features seven separate pools, a dozen cutting-edge slides (a couple of which I can attest are not for the faint of heart), the longest indoor watercoaster in the country, a winding adventure river, a 1,000-gallon dumping bucket, and a FlowRider that simulates a surfing and boogie boarding experience. In addition to water-related activities, the park also offers an overhead ropes course, a climbing wall, an arcade with 100+ video and interactive games, miniature golf, black light laser tag, and a spa/fitness center for both grown-ups and kids.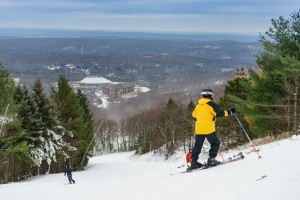 When it was time for food, the Lodge's three sit-down restaurants impressed our entire family. At 330-seat Hemispheres, we enjoyed the extensive all-you-can-eat breakfast and dinner buffets as well as an all-day brunch on Sundays. Trail's End offered delicious upscale pub fare and includes an outdoor patio right at the bottom of the slopes while maritime-themed Neptunes features sushi, salads, and a comfortable bar with a great view of the waterpark.
Moreover, we found that all three eateries were not only reasonably priced, particularly for slopeside dining, but also offered a quality of cuisine that equaled anything we've enjoyed at upscale ski resorts out west or in the Alps.
In short: a varied, fun-filled family weekend at the new Camelback Resort, where boredom is definitely not an option.