Garmisch-Partenkirchen, Germany – It's a little bit like Groundhog Day here in Garmisch-Partenkirchen. First, it was a fresh snowfall, featuring wet, heavy snow into the wee hours of the morning on Thursday. Then, spring-like temperatures of nearly 40 degrees Fahrenheit, with fog and precipitation hit Garmisch once again. Wait a second…weren't we just here one week ago? Well, it doesn't look like Punxsutawney Phil saw his shadow, as early spring is in the forecast. Although, we're unsure if winter ever arrived in Europe in the first place.
Though a fresh snowfall and spring-like temperatures forced delays in Thursday's training run, athletes were able to relax before and after the run in the U.S. Ski Team mobile kitchen and lounge, by Giovanni Rana, the Team's official pasta and sauces sponsor. The mobile kitchen serves as a home away from home for U.S. Ski Team athletes, accompanying the team on numerous European Audi FIS Ski World Cup tour stops.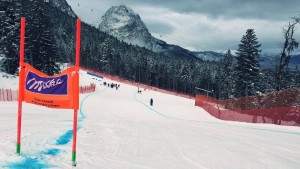 In the end, organizers in Garmisch were able to prep the track for a successful – though not ideal – training run on Thursday before canceling Friday's training run in order to preserve the track for the weekend. It was far from a feel-good run for the entire field, but the conditions didn't seem to affect current overall leader Lindsey Vonn, of Vail, Colo., who recorded the fastest time, leading six American women into the top 20.
"The snow is really bally," explained Vonn. "On some turns there's really no surface underneath. The organizers were definitely in a tough position with the GS race last weekend. They had to throw some salt down on the bottom part of the course, and unfortunately it just didn't set up very well. So hopefully tomorrow with the rain they can work some magic with the hill.
"I think it's good that we got a training run in, even though it's definitely on the limit of safety, but I'm happy that we got it done and now we can race on Saturday," Vonn continued. "I came late into the 'Hölle' section but I carried enough speed. That wasn't a fantastic run; I just skied solid. I didn't really make any mistakes and I didn't really ski that great. It was nothing special…just a high-speed inspection."
Results show France's Romane Miradoli as the fastest on the day, though she disqualified after missing two gates. Rounding out the top three were Germany's Viktoria Rebensburg, .27 out and U.S. Ski Team rookie Breezy Johnson, of Victor, Idaho, just .34 seconds behind Vonn. On a track that's been historically challenging for Alice McKennis (New Castle, Colo.), she finished seventh, with Laurenne Ross (Bend, Ore.) 10th, Jackie Wiles (Aurora, Ore.) 16th and Stacey Cook (Mammoth Mountain, Calif.) 17th.
Switzerland's Lara Gut – in the hunt for the overall lead with Vonn – skied to an uncharacteristic 40th, 3.13 seconds off of Vonn. Vonn currently holds the reigns on the overall with 900 points – 45 points ahead of Gut. She also has a commanding lead in both the downhill with 400 points over Canada's Larisa Yurkiw, and the super G, with 300 points to Austria's Cornelia Huetter's 170.
The not-so-much elephant in the room is Ingemark Stenmark's looming all-time win record of 86. Vonn currently has 75 World Cup wins. If she wins just once this weekend, she'll be within 10 wins of Stenmark's record.
The women carried on the torch from the men, visiting the Hausberg Lodge at the Edelweiss Lodge and Resort – a vacation destination exclusively for the men and women of the U.S. Armed Forces stationed overseas – Wednesday night before the training run, signing autographs for a large crowd of U.S. Armed Forces and their families. All of U.S. Ski Team athletes were present, including Vonn's new puppy Lucy, and were welcomed by a crowd of 200 who visited. The women plan to watch the Super Bowl on Sunday night with the U.S. Armed Forces at Edelweiss.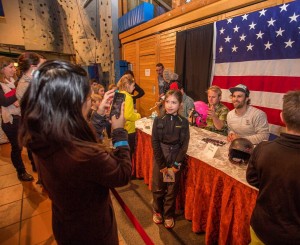 Garmisch (DH, SG) U.S. Starters
Stacey Cook – DH, SG
Abby Ghent – SG
Breezy Johnson – DH, SG
Anna Marno – SG
Alice McKennis – DH, SG
Alice Merryweather – DH
Laurenne Ross – DH, SG
Lindsey Vonn – DH, SG
Jackie Wiles – DH, SG