Salt Lake City, UT – As people spend the last weeks of summer and early autumn mountain biking, zip-lining and hiking at Utah's 14 ski resorts, the first flakes of winter decorated the highest elevations of the Wasatch earlier this week in a precursor of the ski season ahead. Last winter, 4.5 million skier visits set a new record at the state's resorts, which are all preparing for the impending winter with a slew of new improvements.
After spending $35 million on capital improvements last season, Snowbird Ski and Summer Resort has rebuilt its Creekside Lodge. The lodge, catering primarily to day skiers in Gad Valley at Snowbird Entry 1, is currently undergoing massive reconstruction to triple the square footage of the building. The larger facility will now be the base of operations for all Snowbird Mountain Ski and Snowboard School lessons, eliminating shuttling students from the Tram Plaza and allowing for a lot more time skiing and snowboarding on the mountain. A new 500-foot conveyor lift will assist skiers and riders in getting from the new Creekside Lodge to Snowbird's Baby Thunder lift at the far western edge of the resort.
Also this past summer, Snowbird replaced the tram cables of 40 years, and in so doing also installed a fiber optic line into the cable. The line will boost the resort's online webcams to high definition and speed up the free Wi-Fi in the resort's new Summit Lodge atop the tram. Finally, Snowbird will be completing the full remodel of the Cliff Lodge, its flagship slopeside lodging property, for the 2016-17 season, including elegant marble counters and imported tile in the bathrooms, the latest ergonomic mattresses, lush carpeting, contemporary furnishings, modern entertainment systems, energy efficient lighting, and upgraded Wi-Fi.
Powder Mountain Resort continues to strive to maintain the wide open, adventurous experience Pow Mow is known for by capping ticket sales at 2,000 per day and establishing a limit of 3,000 season pass holders annually. Powder Mountain aims to keep its skier density to less than two acres per skier. Despite this, Powder Mountain is adding two new lifts accessing Mary's Bowl and Lefty's Canyon, both previously accessible only by snowcat. These lifts will expand Powder Mountain's skiable terrain to 1,000 acres.
Other news out of Ogden Valley is the official opening of Whisper Ridge Cat Skiing, starting on December 26. Whisper Ridge operates on over 30,000 acres of private ski and ride terrain east of the tiny Cache Valley hamlet of Paradise, plus on over 12,000 acres of land south of Snowbasin assembled by Snowbird's Dick Bass and Snowbasin's Earl Holding, using eight custom PistenBully snowcats for access. Whisper Ridge is an exciting new facility to add to Utah's world-class skiing this winter, following a soft opening last season that we were lucky enough to sample. Whisper Ridge is offering single to multi-day cat-skiing tours and optional first descent helicopter drops for an added dimension.
Unique to Whisper Ridge's operation are three mountaintop overnight yurt villages for multiple day immersion experiences. In each village you will find wood-fired hot tubs and wellness offerings with a diversity of lodging options, including Suite and Master yurts for romantic getaways. All lodging packages are fully inclusive, with chef-prepared meals for breakfast, lunch and dinner.
The Montage Deer Valley is launching a new Montage Expeditions program to allow guests to experience skiing the famed slopes of Deer Valley while celebrating the centennial of the National Parks in Southern Utah, all in one stay. Guests can take a break from skiing during their trip and take a once-in-a-lifetime day-trip adventure to southern Utah for a hiking or biking excursion led by a Montage guide, complete with private flight aboard a Pilatus-12 aircraft and a gourmet chef-prepared lunch within one of four National Parks.  
Sundance Resort is installing a new Arrowhead Lift to replace an aging triple chair on the mountain. The new Arrowhead Lift will be increased from a triple to a quad with new safety bars and improved loading and unloading areas. The new lift will increase uphill capacity by over 500 people per hour and assist in decreasing lift lines.
In its second year of operations, Cherry Peak is continuing to expand by adding a third lift. The new Summit Lift nearly doubles the mountain's skiable terrain to over 400 acres. Cherry Peak also has installed lights in this area to continue operating night skiing on 100 percent of the resort.
In response to the ever-growing popularity and demand for Kansas City-style BBQ cooked and served by John Grissinger, the owner of Brian Head Resort, the resort has built a new state-of-the-art 2,000 square foot restaurant kitchen and BBQ pit. The improvement will triple the size of the previous facilities and double Brian Head's current capacity for serving up delicious brisket, tangy ribs, chicken or perfectly seasoned pork every Friday and Saturday evening.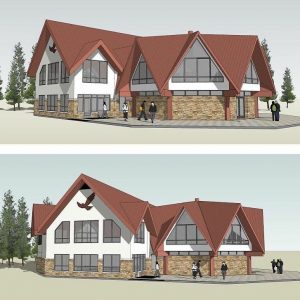 Solitude Mountain Resort, now in its second year owned and operated by Deer Valley Resort, is rebuilding its Roundhouse restaurant that was destroyed by a fire that erupted after the mountain closed for the season last spring, and will be expanding the faciity's Himalayan and Wasatch-inspired mountain cuisine. The building's architecture will closely mimic that of the former structure, and with one of the best and sunniest views in the Wasatch it's worth stopping by for lunch.
As the Brass Tag, a year-round dining experience located in the Lodges at Deer Valley, enters its third winter season, Deer Valley Resort has announced a new chef and a revamped menu. The new menu features Deer Valley-inspired brick-oven cuisine, including fresh seafood skillets, seared meats, oven-roasted fresh fish, locally sourced produce, seasonal flatbreads and specialty sides.
Whether it's a powder day or there is no time for breakfast, guests don't have to sacrifice quality for convenience with Waldorf Astoria Park City's new Pocket Meals program. Executive Chef Ryker Brown of Powder Restaurant is unveiling two gourmet on-the-go options: the pocket quesadilla and the early morning burrito, both of which are hand-crafted in the Powder kitchen each morning and perfect for the traveler on the move.
Looking at new lodging options, the new Stein Eriksen Residences offer many of the traditions synonymous with its legendary namesake lodge. A perfect blend of nature, amenities and impeccable mountain terrain, the Residences offer a top-tier condo and vacation home lodging component to the Stein Collection. Located mid-mountain at Deer Valley Resort and surrounded by mountain trails and runs, Stein Eriksen Residences provide breathtaking mountain views from each condo and home, as well as ski-in/ski-out access to the slopes. The Residences are managed by Stein Eriksen Lodge and offer 24-hour care and Five-Star concierge and amenities. The Residences will officially open for reservations this December with rates planned to start at $2,500 per night during the winter season.
Brighton Resort, one of the four Salt Lake City-area ski mountains, celebrates its 80th year of operation this season. Just 35 minutes from the airport, Brighton is a staple to both locals and visitors alike. Brighton is Utah's only resort that serves 100 percent of its terrain via high-speed lifts, offering multiple terrain parks and an average annual snowfall of over 500 inches.
Ski Utah has announced a new partnership with SNOCRU, a Utah-based company and a popular mobile ski app that can track skiing across the world, but now has something very unique with Utah's 14 resorts. New this year, Ski Utah and SNOCRU apps have joined forces, combining two resources into an aggregated forum that helps users not only track total vertical and days skied, but also vertical per resort and the total amount of fresh snow skied all year.
Vail Resorts has its own mobile app called EpicMix for its own mountains, including Park City Mountain in Utah. The app tracks your progress around the mountain, giving you vertical feet and lifts ridden, as well as a chance to hit goals, collect pins throughout the resort and connect with family and friends. New this year at Park City Mountain, the app will also include EpicMix Time, which serves up real-time wait times at lifts across the mountain.
Utah's resorts remain committed to giving everyone the best experience possible on the slopes, and there are plenty of packages to help subsidize the cost for families and immerse new skiers and riders into the sport. Ski Utah's 5th and 6th Grade Passports Program is offered to kids nationwide. Fifth graders receive three free lift tickets at each of Utah's 14 resorts and sixth graders receive one free lift ticket to each resort, with a $35 administrative fee. Park City Mountain launched Epic SchoolKids in Utah, offering five free days of skiing and riding at Park City Mountain for all of Utah's kids, kindergarten through fifth grade. It includes a free first-timer lesson and rentals during the month of January. Again this year, Brighton Resort will supply kids 10 and under the ability to ski or ride free, and other Utah resorts offer similar packages. Eagle Point Resort, Powder Mountain, Snowbasin Resort, Snowbird and Solitude Resort all offer kids six and under the chance to ski or ride for free. Cherry Peak Resort, Brian Head and Sundance offer kids five and under the opportunity to ski or ride free.
If you can only make a few turns in the afternoon, Alta Ski Area offers a $10 ticket to ski after 3 p.m. on its nearly mile-long Sunnyside lift. If you want to make it a season-long adventure, purchase a $35 Sunnyside Season Pass. Brian Head's University Program is a risk-free program for first time skiers or snowboarders of all ages. They guarantee their Terrain Based Learning program will have you skiing and riding in just three lessons, or you receive a full refund. And don't forget January is Learn to Ski and Snowboard Month nationwide, when many of Utah's resorts participate and offer packages containing a lift ticket, rentals and lesson for $45.
The city of Ogden, located just 35 miles north of Salt Lake City, is working hard to break the mold of being "Utah's best kept secret." For the second consecutive year, Ogden will continue to offer a Ski3 Pass, which provides a full day lift ticket to Powder Mountain, Snowbasin Resort and Nordic Valley Resort for $145, with a stay of two or more nights at participating Ogden lodging partners. To top it off, those who fly into Salt Lake City via Alaska Airlines can receive a free lift ticket at Snowbasin Resort within 24 hours of arrival. Snowbasin will be expanding its already massive snowmaking system with another 40 high-efficiency snow guns this winter.
Eagle Point, a 650 skiable-acre gem in Southern Utah's Tushar Mountains, is available for private rental Tuesday through Thursday, January 3 – April 6, 2017, when the resort is otherwise closed to the public. The completely customizable program starts at $10,000 and includes lift tickets, rentals and resort staff for up to 200 people.
Book your stay in a luxurious cottage at Sundance Mountain Resort and receive two free lift passes per night. This package also includes "First Tracks" skiing on Monday, Wednesday and Friday mornings, and the tickets are also good for the Sundance Nordic Center.
Ski Utah is continuing its partnership with Protect Our Winters (POW) this winter. POW is an environmental axis of the global winter sports community, powered by its goal of reducing the effect climate change imposes upon local sports and economies. Ski Utah will continue to support this organization through promoting carpooling and pubic transit to Utah's resorts throughout the season, but especially on the annual POW Day, which will be held on January 13, 2017 at Protect Our Winter resort partners, Alta Ski Area, Snowbird Ski and Summer Resort, Sundance Mountain Resort and Powder Mountain.
And speaking of public transportation, the Utah Transit Authority (UTA) is proposing revamping its Ski Bus service this winter by increasing the frequency of trips up and down Big and Little Cottonwood Canyons to Alta, Brighton, Snowbird and Solitude and creating a new route between Davis County and Snowbasin. The proposed new Davis County route would including two morning trips daily, seven days per week from the Layton FrontRunner Station and other key transit locations including Layton Hills Mall, local hotels, and select Davis County Park & Ride lots, with two return trips in the afternoon. UTA officials hope that the changes, which will increase Cottonwood Canyons service by 35 percent and offer all-day service at 15-minute intervals during peak travel times and 30-minute service during the day, seven days per week, will help overcome overcrowded ski buses, lacking midday ski bus service and inconsistent service frequency, at no additional cost to riders or taxpayers. Improvements will be made by reallocating existing ski service funds and eliminating existing Ski Bus routes 951, 952 and 954. Public hearings regarding the proposed changes will be held at the following dates and locations:
Wednesday, Sept. 28, 5 to 7 p.m. at the Davis County Central Library, 155 Wasatch Dr., Layton;
Monday, October 3, 4:30 to 6:30 p.m. at Midvale City Hall, 7505 South Holden Street, Midvale; and
Thursday, October 6, 4 to 6 p.m. at Sandy City Hall, 10000 Centennial Pkwy, Multi-Purpose Room, Sandy.