Soelden, Austria – The fog has been swirling around the Rettenbach Glacier, creating an atmosphere of magic like something out of a fairytale. The spirit of ski racing is swirling around Soelden, too, as the crew preps the stage for one of the biggest shows in ski racing: the Audi FIS Ski World Cup opener kicking off the 50th anniversary of the tour.
This Saturday marks the start to a jam-packed 2016-17 alpine racing season, with 16 alpine World Cups to be contested in the U.S., including at Killington Resort, Beaver Creek Resort and Squaw Valley, and featuring World Cup Finals to end the season at Aspen Snowmass. The potential outcome at the World Cup opener is always a bit of a question mark for athletes, as it's a testing ground of sorts. What is unquestionable, however, is their appetite for competition. They're ready to get this show on the road.
Ted Ligety, of Park City, Utah, will return to competition for the first time since late last January, when he tore the anterior cruciate ligament in his right knee while training giant slalom in Oberjoch, Germany. During an early October interview with Team USA, just after an on-snow training camp in Portillo, Chile, Ligety said, "If Soelden was tomorrow, I'd be racing." Ligety noted that he felt good right off the bat and added, "I'm expecting a lot; I never lower my expectations."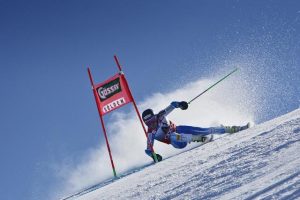 Ligety is the defending victor at Soelden, having won against a stacked tech field over France's Thomas Fanara and Austrian rival and 2016 overall World Cup winner Marcel Hirscher. Plus, in each of the nine times Ligety has competed at Soelden, he's finished in the top 10 and he's podiumed seven times. To say Soelden has been good to him is an understatement, but this track is known for featuring the longest, steepest, most sustained pitch of any World Cup giant slalom on the tour. It's relentless, and it'll be a fight to the end for victory.
On the women's side, Colorado's Mikaela Shiffrin has had strong results in Soelden—including her first GS World Cup win in 2014 and finished second in last year's race. This year, she will go head-to-head with last year's victor Federica Brignone, whose speed and style are equally impressive. She'll also have to fend off Austria's Eva-Maria Brem—the 2016 giant slalom champion—on home turf, and don't discount Lichtenstein's Tina Weirather or overall World Cup champion Lara Gut of Switzerland, either.
After sustaining a knee injury that had her on the sidelines for a portion of the 2016 season, Shiffrin is feeling stronger than ever—which has shown in her on-snow training this summer. She is absolutely ripping.
"I have a feeling of redemption, but I've had that feeling for the past three years with my giant slalom," she said. "I feel like I should have been winning GS back when I won my first giant slalom in Soelden (in 2014), but I was inconsistent and didn't have enough of the proper technique and tactics to really make it happen. Then last year it felt like the year it was really going to kick in, but when I got hurt it sort of threw off my timing a bit." Now, she's feeling like she's getting it back.
With successful prep camps and solid conditions in New Zealand and Portillo training slalom, giant slalom and speed, Shiffrin is ready to get back to World Cup action. Though weather has presented some challenges since returning to Europe for training, Shiffrin has gotten on some steep slopes, injected hills and—in just the last few days—some very well-prepared tracks, having skied in the Icebox the last couple of days.
"I'm trying to use every last second I can before the race to get mentally and physically prepared and use every chance I can get on snow to be ready with my skiing…and I honestly have no idea how it will stack up," said Shiffrin. "We've done a good job, put in the work, and that's all you can ask for."
Veterans Julia Mancuso (Squaw Valley, Calif.) and Lindsey Vonn (Vail, Colo.)—the winningest female in World Cup history—will be sitting Soelden out. Vonn announced on Facebook late last week that she won't be racing, saying, "I'm disappointed I won't be there but my goals for this season are focused more on downhill and super G races." Though Mancuso is back on snow and in gates, recently completing a camp in Soelden, she'll continue to focus on recovery from the hip surgery she had last year.
As of Wednesday, the U.S. Ski Team had confirmed two women for Saturday's opening giant slalom and six men for Sunday's race. The men's team will be headlined by veterans Ligety and teammate Tim Jitloff, of Reno, Nev. Jitloff has his sights set on a return to the top 15 in the world. Also keep an eye on David Chodounsky (Crested Butte, Colo.), who is quickly becoming a two-discipline threat with some killer giant slalom results in 2016.
For U.S. television audiences, Universal HD will cover the women's giant slalom on Saturday at 3:00 p.m. ET and NBCSN will air the men's giant slalom on Sunday at 9:30 p.m. ET. You can also catch all the action streaming live on NBC.com.
CONFIRMED SOELDEN STARTERS
Men
David Chodounsky (Crested Butte, CO)
Kieffer Christianson (Anchorage, AK)*
Ryan Cochran-Siegle (Starksboro, VT)
Tommy Ford (Bend, OR)
Ted Ligety (Park City, UT)
Tim Jitloff (Reno, NV)
Brennan Rubie (Salt Lake City, UT)
Women
Megan McJames (Park City, UT)*
Mikaela Shiffrin (Eagle-Vail, CO)
*Denotes independent athletes representing the United States of America