Killington, VT – As Vermont's winter weather closed in on the World Cup women on Saturday, France's Tessa Worley braved a rough, bumpy track on Killington's Superstar trail to take the giant slalom win as the Audi FIS Ski World Cup returned to the U.S. East Coast for the first time in 25 years.
It was Worley's first World Cup win since 2013. "It's been long," Worley said of her three-year drought after tearing her ACL in a World Cup slalom in Courchevel, France. "Physically I could feel well. In less than a year after my injury, I felt … physically 100 percent. The tough part was to get the spirit back of the racing and to be able to give everything."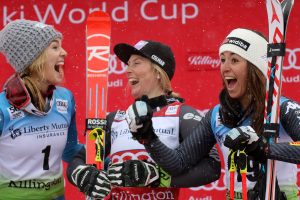 First-run leader Nina Loeseth of Norway finished second, with Sofia Goggia of Italy rounding out the podium in third. Local favorite
Mikaela Shiffrin, of Eagle, Colo., disappointed stands filled with American spectators by finishing in fifth.
The day opened with clear, warm weather, but it got steadily colder as precipitation and fog rolled in throughout the day. Sitting in eighth after the first run, Shiffrin threw down a solid second run to better her position by three slots.
"I'm happy with my second run and I'm taking steps forward," said Shiffrin. "I'm happy to finish another GS. Last year my DNF rate was like 100 percent in GS races. I'm happy to have scored some points and I can build off of that.
"I'm going to take a minute and reevaluate what's going on with my GS and why I can't seem to put my training skiing into the race," Shiffrin added. "A lot of girls are really fast and pushing really hard and they all want to win just as badly as I do. I have to start skiing like I want to win."
But the talk of the day at this central Vermont ski resort was the crowd size. Officially stated as 16,000 in attendance, fans streamed into the venue in droves to witness the first World Cup on the East Coast in 25 years. Even as the weather worsened throughout the afternoon, the crowd seemed to get louder and louder.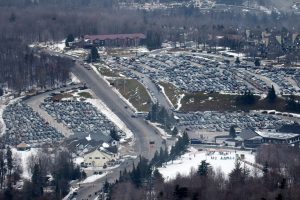 "Usually when we are in the USA, there's not so many people coming to watch the races," said Swiss racer Lara Gut, who skied out in the first run. "Here (in Killington) it's amazing – so many people, and I was surprised. Yesterday, I had an autograph session. So many kids came around, so many people recognizing me. I feel that people are happy that I was here. So that was cool."
Shiffrin, who attended nearby Burke Mountain Academy, agreed. "It's amazing," she said. "The crowd is awesome—so many people and we're all so excited about it."
Shiffrin was the only American to qualify for a second run. Nina O'Brien (Edwards, Colo.) and Patricia Mangan (Derby, N.Y.) started their first World Cup in Killington, and Alice Merryweather (Hingham, Mass.) skied her first World Cup giant slalom.
"Julia Mancuso had a talk with us girls a few days ago and she was super supportive and told us to go for it—set your goals high and don't leave anything behind," said O'Brien. "I grew up skiing at Squaw Valley, but I went to Burke Mountain Academy in Vermont. I was super excited when I found out about (the Killington World Cup). The crowd is awesome—it makes your heart beat a little faster."
Next up, the women race slalom Sunday with Shiffrin entering the field as the heavy favorite after winning the Levi slalom two weeks ago. "With slalom, I feel like most hills play to my strengths," said Shiffrin, addressing the tough Killington hill. "It's just about doing my best to put my training skiing out there. I've been training really well—a lot better than I even skied in Levi. I'll be very disappointed if I can't put that skiing out there."
(An extensive photo gallery of Saturday's action from First Tracks!! Online correspondent Martin Griff follows the official results below.)
OFFICIAL RESULTS
Audi FIS Alpine Ski World Cup
Killington, VT – Nov. 26, 2016
Women's Giant Slalom
| Rank | Name | Run 1 | Run 2 | Tot. Time | Diff. Time |
| --- | --- | --- | --- | --- | --- |
| 1 | WORLEY Tessa | 59.56 | 59.70 | 1:59.26 | |
| 2 | LOESETH Nina | 59.47 | 1:00.59 | 2:00.06 | +0.80 |
| 3 | GOGGIA Sofia | 1:01.44 | 58.93 | 2:00.37 | +1.11 |
| 4 | BASSINO Marta | 1:00.50 | 59.89 | 2:00.39 | +1.13 |
| 5 | SHIFFRIN Mikaela | 1:00.62 | 59.88 | 2:00.50 | +1.24 |
| 6 | DREV Ana | 1:00.56 | 1:00.10 | 2:00.66 | +1.40 |
| 7 | MARSAGLIA Francesca | 1:01.43 | 59.57 | 2:01.00 | +1.74 |
| 8 | BRIGNONE Federica | 1:00.11 | 1:01.07 | 2:01.18 | +1.92 |
| 9 | CURTONI Irene | 1:01.38 | 59.92 | 2:01.30 | +2.04 |
| 10 | BAUD MUGNIER Adeline | 1:01.84 | 59.57 | 2:01.41 | +2.15 |
PHOTO GALLERY: