Wengen, Switzerland – Norway's Henrik Kristoffersen battled a tough weekend of weather to win Sunday's classic Wengen World Cup slalom over Marcel Hirscher. Felix Neureuther of Germany was third.
Kristoffersen also won last year's slalom in Wengen, but due to lack of snow last year's slalom course was set on the downhill track, which has a complete different profile. It was also the Norwegian's second slalom win in as many starts, after dominating the field last week in Adelboden and winning by nearly two seconds. His margin on Sunday, however, was much smaller.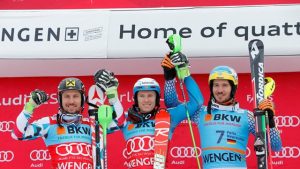 "My run was not perfect today," said Kristoffersen, "I wasn't perfect on the steep section, but still I am happy to have walked away with the win today."
They came into Sunday tied for first in the World Cup slalom standings, but with the win, Kristoffersen grabbed the slalom lead by 20 points over Hirscher. Hirscher still holds the overall lead.
The organizing committee in Wengen was only able to complete this weekend's slalom and alpine combined, as heavy snow canceled Saturday's traditional Lauberhorn downhill.
Starksboro, Vt.'s Robby Kelley was the top American finisher on Sunday, scoring his first World Cup slalom points in 25th.
"I was really happy with how I skied first run," said Kelley, who finished 19th first run. "I was fourth on the pitch first run, so I was trying to get a little more going on the pitch second run, but I went too straight into it. Bummer. I didn't have a great run but I had to get some points."
After finishing eighth first run, hopes were high for David Chodounsky, of Crested Butte, Colo. He came out of the start with a vengeance, but straddled about halfway down the course and did not finish.
Next, the World Cup alpine men head to Kitzbuehel for another classic World Cup race, where the men will race super G, downhill and slalom.
OFFICIAL RESULTS
Audi FIS Alpine Ski World Cup
Wengen, Switzerland – Jan. 15, 2017
Men's Slalom
| Rank | NATION | Name | Run 1 | Run 2 | Tot. Time | Diff. Time | WC Points |
| --- | --- | --- | --- | --- | --- | --- | --- |
| 1 | NOR | KRISTOFFERSEN Henrik | 52.51 | 50.80 | 1:43.31 | | 100 |
| 2 | AUT | HIRSCHER Marcel | 53.07 | 50.39 | 1:43.46 | +0.15 | 80 |
| 3 | GER | NEUREUTHER Felix | 53.48 | 50.46 | 1:43.94 | +0.63 | 60 |
| 4 | AUS | HIRSCHBUEHL Christian | 53.41 | 50.65 | 1:44.06 | +0.75 | 50 |
| 5 | FRA | LIZEROUX Julien | 53.66 | 50.56 | 1:44.22 | +0.91 | 45 |
| 6 | SWE | HARGIN Mattias | 53.09 | 51.21 | 1:44.30 | +0.99 | 40 |
| 7 | RUS | KHOROSHILOV Alexander | 52.95 | 51.54 | 1:44.49 | +1.18 | 36 |
| 8 | ITA | MOELGG Manfred | 53.34 | 51.18 | 1:44.52 | +1.21 | 32 |
| 9 | FRA | BUFFET Robin | 53.44 | 51.16 | 1:44.60 | +1.29 | 29 |
| 10 | GER | LUITZ Stefan | 53.66 | 50.95 | 1:44.61 | +1.30 | 26 |