Aspen, CO – Emerging from one of the most competitive fields ever to compete in men's halfpipe at X Games, Americans Matt Ladley and Taylor Gold, both of Steamboat Springs, Colo., scored podium finishes on Thursday night, earning silver and bronze, respectively, behind Australian Scotty James.
James won Thursday night's competition with a run that featured huge amplitude and a backside 1260.  Ladley, who won X Games gold at Aspen in 2016, had a beautiful run that featured a huge backside 900 linked to a frontside 1260. The silver was his second medal in six X Games appearances. Ladley also won the Park City U.S. Grand Prix in 2016.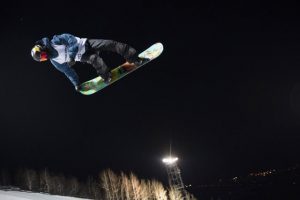 It was a triumphant return for 23-year-old Gold, who spent all of 2016 sidelined while recovering from a broken kneecap. He knew that he had the tricks going into the 2017 X Games, and the 2014 Olympian seemed to pick up right where he left off, landing a run that included a 22-foot chicken-wing McTwist. His sister, Arielle, will compete in women's halfpipe at X Games on Saturday night.
Chase Josey, of Hailey, Idaho, also had a fantastic showing at X Games, finishing just off the podium in fourth place. Josey's fourth-place finish in Aspen comes just five days after winning the Laax Open World Cup event with a history-making run that featured five consecutive doubles.
Danny Davis, of Highland, Mich., finished fifth despite an injury to his right hand that made it difficult to grab; Louie Vito (Bellafontaine, Ohio) was sixth; Ben Ferguson (Bend, Ore.) was seventh; Shaun White (Carlsbad, Calif.) was a disappointing 11th.
Up next for the men's snowboarding riders at X Games is men's big air.
OFFICIAL RESULTS
X Games Aspen
Aspen, CO – Jan. 26, 2017
Men's Snowboard Halfpipe
| Rank | Name | NATION | Run 1 | Run 2 | Best |
| --- | --- | --- | --- | --- | --- |
| 1 | Scotty James | AUS | 90.00 | 40.33 | 90.00 |
| 2 | Matt Ladley | USA | 73.00 | 80.00 | 80.00 |
| 3 | Taylor Gold | USA | 26.33 | 79.00 | 79.00 |
| 4 | Chase Josey | USA | 75.00 | 18.66 | 75.00 |
| 5 | Danny Davis | USA | 73.66 | 74.00 | 74.00 |
| 6 | Louie Vito | USA | 72.00 | 17.33 | 72.00 |
| 7 | Ben Ferguson | USA | 70.00 | 11.00 | 70.00 |
| 8 | Taku Hiraoka | JPN | 68.66 | 12.66 | 68.66 |
| 9 | Ayumu Hirano | JPN | 54.33 | 48.66 | 54.33 |
| 10 | Iouri Podladtchikov | SUI | 31.33 | 20.66 | 31.33 |
| 11 | Shaun White | USA | 29.66 | 16.00 | 29.66 |
| 12 | Pat Burgener | SUI | 10.00 | 14.33 | 14.33 |