Calgary (AB), Canada – The Canadian moguls team continues to find success at World Cups at home, as the team clinched another three medals on Saturday in Calgary. Justine Dufour-Lapointe, Chloé Dufour-Lapointe and Mikael Kingsbury all walked away with hardware on home soil, but Canadians nevertheless lost both top spots to Australians.
Kingsbury has had tremendous success in Calgary, where he has been champion for the past six years. On Saturday, however, he wasn't able to extend the streak to a seventh year, taking second behind Australian Matt Graham. Benjamin Cavet of France took the bronze.
While the unseasonably warm temperatures arrived as expected, Saturday dawned much gloomier and windier than had been originally forecast, and the exposed top half of the Calgary moguls course was rocked by gust after gust throughout the day. Still, with a large crowd on hand and the course in pristine condition, the best moguls skiers in the world were able to step up and get it done.
After Kingsbury came out of qualifiers with the top score, Graham settled into a groove in the semifinals, earning the top score there while displaying the smooth technique that has seen him emerge as Kingsbury's top contender over the past two seasons.
After Kingsbury put down a solid, if not flawless, run to take the lead in the big final, Graham was the only athlete left to challenge the great Canadian, and he rose to the occasion with two near-perfect airs and the fastest time of the round to earn a score of 85.34 and bump Kingsbury's 83.90 down to second place.
"It was super loud up there with the wind and I couldn't really hear the scores, which I usually like to listen to," said Graham of his final run, "So, I didn't know what (Kingsbury) did, but I just thought to myself, 'Well, I better put a smoking run together,' and I was able to do that. And to see my score come up with the number one, after my teammate Britt just won for the ladies, that was pretty awesome.
"And it's nice to knock Mik off that top step every now and then, prove that he's human. He's a good mate of mine and we push each other a lot."
"I knew it was a good run….I'd been having trouble on my 1080 during my final and super final runs. I still managed to land them all, but I knew I didn't give everything to the course today," Kingsbury admitted. "It's not my best performance here in Calgary, but I'll take it. It's another podium, and that's awesome."
With his runner-up on Saturday Kingsbury was able to maintain his hold of top spot on the men's moguls leaderboard, though Graham was able to move into second place and close the gap somewhat, with 246 points to Kingsbury's 320.
Australian moguls phenom Britteny Cox, who has held the World Cup lead since the season's first contest in Ruka, Finland, took first place once again on Saturday. Canadian sisters Justine and Chloé Dufour-Lapointe finished in second and third, respectively, a second consecutive podium finish for each.
"I had such a fun day skiing today," Cox said following the awards ceremony. "I've just been building and building, from my win in Ruka (FIN) through to Lake Placid (USA) and then here today, working on my process and having fun, and with that the results seem to come."
''I'm so, so happy about my run! I had to focus on getting a big three sixty up top. I managed to do that, ski well, clean, and fast while hitting a really awesome bottom air. I did my job and I'm really proud. I don't think I could have done any better today. '' said silver medalist Justine Dufour-Lapointe.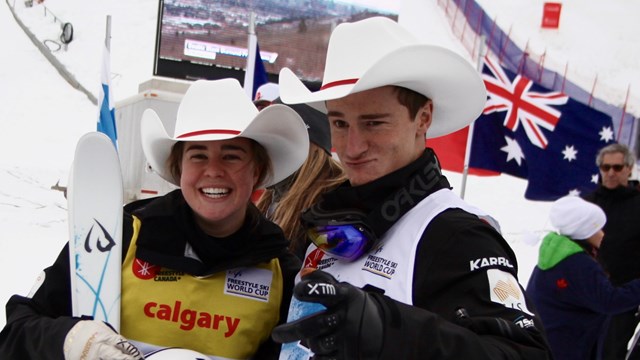 With her win Cox now has 345 points on the season, holding an 84 point advantage over Justine Dufour-Lapointe's 261, as the Canadian was able to leapfrog Perrine Laffont (FRA) to take over second place.
Tom Rowley (Long Beach, N.Y.) and Nessa Dziemian (East Hampstead, N.H.) were the top U.S. Ski Team athletes in the field, finishing fourth and fifth, respectively. Prior to this weekend, both Dziemian and Rowley had yet to post any top-five finishes this season. Rowley, who has two second place podiums on his resume, was able land his air package and ski clean to finish just off the podium, with only 0.13 separating him and third place.
"I kept it simple and executed my run," said Rowley. "Conditions in Calgary can be tough, but it was warmer today and the course stayed soft. It made it easy to go fast and just let it go."
"I was able to put down a top to bottom on my finals run, but I thought my exit on my cork 7 was messy." said Dziemian. "I tried to slow things down coming into the top air in my super final run, but I ended up coming in too fast and didn't readjust myself on the landing. I tried to fight for it but just couldn't hold on. I'm still stoked with a fifth place though. I think I'm heading in the right direction – taking those steps to make it on the podium."
World Cup moguls athletes now head to Deer Valley Resort in Utah for competition this week.
OFFICIAL RESULTS
FIS Freestyle Ski World Cup
Canada Olympic Park – Calgary (AB), Canada – Jan. 28, 2017
Men's Moguls
| Rank | NATION | Name | Tot. Points | WC Points |
| --- | --- | --- | --- | --- |
| 1 | AUS | GRAHAM Matt | 85.34 | 100 |
| 2 | CAN | KINGSBURY Mikael | 83.90 | 80 |
| 3 | FRA | CAVET Benjamin | 82.89 | 60 |
| 4 | USA | ROWLEY Thomas | 82.76 | 50 |
| 5 | KZN | REIHERD Dmitriy | 80.50 | 45 |
| 6 | CAN | MARQUIS Philippe | 80.45 | 40 |
| 7 | JPN | HORISHIMA Ikuma | 80.65 | 36 |
| 8 | FRA | BENNA Anthony | 80.46 | 32 |
| 9 | JPN | ENDO Sho | 80.28 | 29 |
| 10 | CAN | DUMAIS Laurent | 78.13 | 26 |
Women's Moguls
| Rank | NATION | Name | Tot. Points | WC Points |
| --- | --- | --- | --- | --- |
| 1 | AUS | COX Britteny | 82.11 | 100 |
| 2 | CAN | DUFOUR-LAPOINTE Justine | 80.02 | 80 |
| 3 | CAN | DUFOUR-LAPOINTE Chloe | 75.19 | 60 |
| 4 | NOR | WESSEL Hedvig | 64.79 | 50 |
| 5 | USA | DZIEMIAN Nessa | 38.77 | 45 |
| 6 | FRA | LAFFONT Perrine | 37.06 | 40 |
| 7 | KZN | GALYSHEVA Yulia | 73.99 | 36 |
| 8 | RUS | PERTAKHIYA Marika | 73.51 | 32 |
| 9 | RUS | RAKHIMOVA Regina | 73.28 | 29 |
| 10 | AUS | HIMBURY Madi | 71.98 | 26 |